A brain tumor is a mass of tissue that is formed by a growth or accumulation of abnormal cells within or closer to the brain. According to the WHO, there are 120 different types of brain tumors depending on the site of occurrence. Listed below are some of the most common types of cancers:
- Acoustic neuroma
- Astrocytoma:
- Chordoma
- CNS lymphoma
- Craniopharyngioma
- Medulloblastoma
- Meningioma
- Metastatic tumors
- Oligodendroglioma
- Pituitary tumors
- Primitive Neuroectodermal (PNET)
- Schwannoma
- Brain stem glioma
- Craniopharyngioma
The causes for these cancers are unknown. However, risk factors like environmental (exposure to hazardous chemical or toxins), genetic, tobacco and/or alcohol consumption, cigarette smoking, high radiation exposure to head, HIV infection, etc. are considered as the probable causes.
There are various tests or procedures that are used by neurologists to diagnose these tumors depending on factors like:
- Patient's age
- Signs and symptoms
- Previous medical test results related to the disease.
Below are the various tests and procedures that are routinely applied for diagnosis:
- Magnetic Resonance Imaging (MRI): This technology uses the magnetic field to produce detailed images of the site. These are further classified into Intravenous (IV) gadolinium-enhanced MRI, spinal, and functional MRIs. During the procedure, a dye (contrast medium) is injected into a patient's vein by the neurologist or internist prior to scanning in order to obtain a better visual presentation.
- CT Scan: In this procedure, the scans produce a 3D picture of the brain using x-rays, which is taken from different angles to identify any lump in or around the brain.
- Tissue Sampling: It is also called as biopsy, in which the physician's surgically remove a sample of the affected tissue. The sample tissue is examined under the microscope to detect presence of cancerous cells.
- PET-CT Scan: This technology is used for detailed analysis of the tumor when a patient is undergoing the treatment.
- Cerebral Arteriogram: It is also called as cerebral angiogram and involves the use X-rays. It is similar to MRI wherein a contrast medium is injected into the main arteries of the patient's head
- Lumbar Puncture: It is also known as spinal tap. It involves the use of a needle by the doctor to take a sample of cerebrospinal fluid for cancerous cell, markers, and blood analysis
- Molecular Testing: Various laboratory tests are carried out on samples to identify cancerous markers, specific genes, and proteins. The segment is witnessing high research activity since the last few years.
- Electroencephalography (EEG): In this test, the electrical activity of the brain is measured by attaching electrodes to the patient's head to monitor possible seizures.
Presence of various diagnostic tools and rising awareness through campaigns and government initiatives is expected to promote growth of the brain tumor diagnosis market over the forecast period.
Global brain tumor diagnosis market, by region, 2015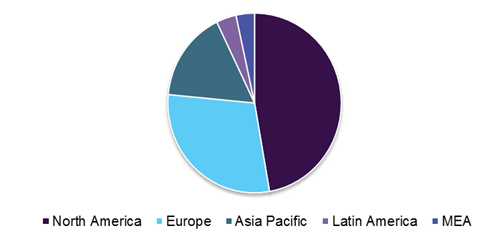 Brain Tumor Therapeutics: Market Snapshot
Increasing focus of healthcare providers on development of cancer treatment is expected to promote growth of the therapeutics segment over the forecast period. Treatments such as immunotherapy and targeted therapy are expected to undergo tremendous research over the next few years in order to develop lifesaving drugs for brain cancer.
Immunotherapy involves the utilization of the patients' immune system to identify and kill cancerous cells. These are expected to provide excellent and long-lasting results provided they identify the cancerous cells correctly. Hence, a major concern associated with the treatment is elimination of healthy cells by the body.
As of 2016 in the U.S., a drug named pembrolizumab is under clinical investigation by its manufacturer Merck. Such driven research programs and accelerated approvals being granted by bodies like U.S. FDA are predicted to boost growth of the brain tumor diagnosis and therapeutics market over the forecast period.

In-depth report on global brain tumor diagnostics and therapeutics market by Grand View Research:
http://www.grandviewresearch.com/industry-analysis/brain-tumor-diagnosis-and-therapeutics-market