Breathable antimicrobial coatings are special coatings which are treated with antimicrobial technology either during the manufacturing or after the production of the coatings. These not only provide protection against microorganisms but also provide high-level water resistance.
They allow water vapors to permeate through the coating but repels water in liquid form. These coatings are being increasingly used for application in construction, medical, indoor air quality control, mold remediation, food, and textiles.
Global breathable antimicrobial coatings market revenue, by region, 2015 (%)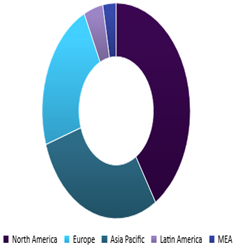 These are used in air ducts, HVAC systems, walls, as well as the ceiling in building for prevention of moisture and growth of molds. In addition, these are being used in medical devices in hospitals for prevention of hospital acquired diseases. They are also used in packaging of pharmaceuticals and medical devices, thereby preventing entry of pollutants into the goods and increasing its life.
North America and Asia are the major market for the product and are expected to witness rapid growth. Growing consumer awareness and increasing focus towards sports and hygiene are expected to propel the market growth over the forecast period. In addition, technological advancement in these regions is expected to further propel demand. The growth of construction sector in developing economies is expected to play a key role in fueling the demand for the product in indoor air quality control and mold remediation.
Silver is the major antimicrobial agent used for providing antimicrobial property in any coating. In addition, quaternary ammonium, triclosan, metallic salts, and other organic products are also used for the same. Stringent regulations regarding use of triclosan in health products have led to decreasing in demand for triclosan based antimicrobial agents. Europe has already banned the use of Triclosan in numerous applications. A similar trend is expected to be witnessed in other regions.
Development of nanotechnology has led to the development of nanomaterials including nano silver for providing antimicrobial property in coatings. This is expected to open new opportunities for the product over the forecast period. Microban is the major technology provider for coatings. Dupont, Paradigm Labs, H.B. Fuller Construction Products, Inc., Fast Mold Removal, and JFB Hart Coatings are the major manufacturers worldwide.

In-depth report on global breathable antimicrobial coatings market by Grand View Research:
http://www.grandviewresearch.com/industry-analysis/breathable-antimicrobial-coatings-market