Lightweight and strong fire, smoke & toxicity (FST) properties have made CFRTP a popular material in aerospace and automobile
Carbon fiber reinforced thermoplastic (CFRTP) is an incredibly strong and lightweight fiber reinforced plastic. These composites are costly to produce and are used wherever high rigidity and strength to weight ratio is needed. The product is used in different applications such as automotive, aerospace, civil engineering, sports and numerous other technical and consumer applications.
In recent times, fuel efficiency is one of the biggest challenges faced by the automotive manufacturers. Reducing the overall weight of the car body helps in efficient usage of fuel, thus also reducing vehicular emissions. CFTRP contributes towards lowering the overall body weight of cars or any other vehicles. Thus, it is popularly used as an alternative to metals such as steel and aluminum in car manufacturing.
U.S Carbon Thermoplastics Composite Market, By Application 2015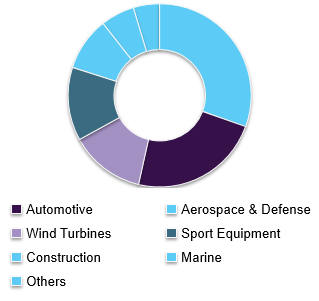 Similar fuel efficiency concerns are also faced by the aviation sector, and CFRTP plays a significant role in bringing down the cost of fuel by reducing the aircraft weight. Most of the Airbus components are build using CFRTP materials including its fuselage components and wings spars. Moreover, as the product is easily weldable and recyclable, it serves as a valuable material for the manufacturing of blades for wind turbines. Its corrosion resistant nature, flexibility, and durability makes it suitable for marine and construction application segments.
Polyacrylonitrile(PAN) to emerge as a major raw material segment
The key ingredients in the production of CFRTP include polyacrylonitrile (PAN) & petroleum pitch. The enhanced properties of PAN over petroleum pitch are projected to drive the polyacrylonitrile segment in the product market.
The polyacrylonitrile market in North America is projected to grow at a CGAR of 11.3% by 2025. Currently, large capacities of PAN exist and is thus expected to substitute the petroleum pitch product, thus emerging as the biggest raw material segment for CFRTP.
Stringent government regulations towards energy conservation and vehicular emissions is projected to drive the CFRTP market in Europe and North America
Major automobile companies such as Audi, Mercedes, Ferrari, BMW, etc. emphasize on producing high performance products with minimum vehicular emissions and environmental impacts. Moreover, the presence of stringent laws and regulations on vehicular emissions and positive steps taken by European automotive manufacturers in this concern is further expected to spur the market growth in this region.

In-depth report on global carbon thermoplastic (CFRTP) composites market by Grand View Research:
https://www.grandviewresearch.com/industry-analysis/carbon-fiber-reinforced-thermoplastic-cfrtp-composites-market