The cell culture protein surface coating is a method in which the cell cultureware surfaces are coated with extracellular matrix components or proteins to improve the adhesion, differentiation, and proliferation of the cells in vitro. Cell culture protein surface coating facilitates the growth of different types of cells including epithelial, endothelial, fibroblasts, myoblasts, leukocytes, muscle cells, and Chinese hamster ovary cell lines. There are different sources of proteins including humans, animals, plants, and synthetic proteins that are available for surface coating. Laminin, fibronectin, vitronectin, collagen, and osteopontin are the most widely used proteins for cell culture protein surface coating.
Increasing interest of scientists and researchers in stem cell research is a major driver of the market. Stem cell therapy is one of the most effective and promising therapy for the treatment of cardiovascular disease, cell deficiency, brain disease, cancer, and blood diseases. In addition, escalating focus of researchers on tissue and organ construction by using stem cell culture is expected to further boost market growth. For example, in 2014, researchers from the Johns Hopkins University School of Medicine in Baltimore developed a small human retina in a dish from human stem cells. In addition, artificial skin can be produced by using tissue culture, which could be used for the treatment of victims who have suffered burns.
Cell culture protein surface coating market share, by region, 2015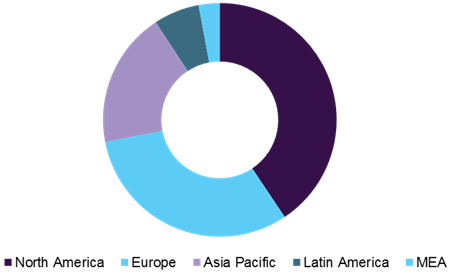 There are several ethical and religious constraints on the application of animal-derived proteins, which could hinder the growth of the market. The bovine serum along with other animal sera are used in several culture media, which is a high source of nutrients. The blood or tissue collection process might be painful for animals. It is estimated that around half a million liters of raw fetal bovine serum is produced each year worldwide, which equates to harvesting of more than one million bovine fetuses annually. An additional limiting issue is the use of embryonic stem cells for cell culture. The isolation of stem cells from embryo destroys an embryo, which is not an ethical practice according to some religious beliefs. Some people also believe that the embryo constitutes life; hence, it is immoral and unethical to destroy one life to save another. Thus, ethical and religious constraints on the application of animal-derived products could hinder the market growth.
The cell culture technique is used for the production of various biologics such as insulin, vaccines, and protein therapeutics. Stringent government regulations for the development and production of biopharmaceuticals could hinder the market growth. Even a small variation in protein structure results in differences in efficacy and safety of medicine. In addition, the rules and regulations for production & marketing of biosimilars is stricter than those for generic medicines. The development of a biosimilar can take longer time spanning across 7 to 8 years, with investment of huge amount of money. Thus, the market for cell culture protein surface coating can be restricted by stringent government regulations for biologics production.
Currently, there are several global and local vendors present in this market. Some of the key players are Becton, Dickinson and Company; Merck KGaA; Corning, Inc.; Thermo Fisher Scientific, Inc.; Greiner Bio One International GmbH; and Sartorius Stedim Biotech.

In-depth report on global cell culture protein surface coating market by Grand View Research:
http://www.grandviewresearch.com/industry-analysis/cell-culture-protein-surface-coating-market