The cell isolation involves the separation of two or more cells by using different techniques including centrifugation, surface marker, and filtration. Different types of cells such as human differentiated cells, human stem cells, and animal cells can be isolated by this method for various applications. The major applications of cell isolation are biomolecule isolation, stem cell research, cancer research, therapeutics, tissue regeneration, and in vitro diagnostics. There are many advanced instruments such as centrifuge, flow cytometer, filtration systems, and magnetic-activated cell separator systems are required for cells separation.
Increasing interest of biotechnology companies and researchers in cancer & stem cell research is a major driver of the cell isolation market. Stem cell therapy is one of the most promising therapy for the treatment of severe chronic diseases including cancer, cardiovascular disease, and brain disorder.
The increasing incidence of cancer is expected to further boost cell isolation market growth. As stated by National Institutes of Health, around 1.7 million new cases of cancer were diagnosed in the U.S. and around 595.7 thousand people died from this disease. Thus, the researchers are taking huge efforts to innovate and develop advanced therapy for cancer treatment.
Cell isolation market share, by region, 2016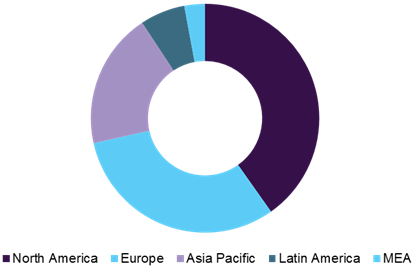 Growing demand for personalized medicine is another major factor driving the growth of the market. Cell culture techniques are widely used in personalized medicine to replicate patient's own cells in vitro. The isolated human stem cells can be used to test how diseased cells of patient respond to the drugs in vitro. The cultured cells of patient can be used for disease diagnosis, selecting appropriate treatment, and pre-test a therapy's safety & effectiveness.
Cell culture helps researchers in analyzing genetic make-up of the person. The recognition and validation of genetic composition of individual has a major part to indicate an individual's health & susceptibility to various diseases such as cancer and cardiac diseases. Genetic profiling of individual is helping a new era in drug development of personalized medicine, which is focused on targeted drug development. The personalized medicine is highly effective and reduces the adverse effects of drugs and provide fast recovery of patient.
The cell isolation market is highly fragmented with the presence of large number of global and local vendors. Several big companies such as BD Biosciences; Thermo Fisher Scientific, Inc., GE Healthcare; Inc., Merck KGaA, Beckman Coulter, and Bio-Rad Laboratories, Inc. have maximum revenue shares in the market. These vendors provide an extensive range of advanced cell separation products including instruments and consumables globally.
The major companies are undertaking different strategies, such as collaborations, new product launch, and regional expansion for serving the unmet needs of their customers. The presence of large number of companies in the market has led to the intense competition among vendors and high pressure on pricing strategies which affects the profit margin.

In-depth report on global cell isolation/cell separation market by Grand View Research:
http://www.grandviewresearch.com/industry-analysis/cell-isolation-cell-separation-market