The management of persistent, post-traumatic cerebrospinal fluid (CSF) otorrhea and rhinorrhea is a surgical challenge. This challenge pronounces the need for the development of efficient drainage products and shunts. These products provide solutions for the management of CSF-associated conditions such as hydrocephalus, arachnoid cyst, spina bifida, and craniosynostosis.
Rising demand for development in CSF shunts
Implementation of lumboperitoneal shunting and ventriculoperitoneal shunting for the management of CSF leak is projected to fuel the demand for shunts over the forecast period and impact market growth significantly.
The other methods of shunting include ventriculo-atrial and ventriculo-pleural depending on the location of CSF drainage. The use of the "custom-made" shunts with programmable valves in accordance with neurosurgeon's requirements is anticipated to fuel progress in this segment.
The rising incidence of high-pressure hydrocephalus is contributive to the developments in this segment. However, shunt dysfunction is a common problem which represents a significant scope of work for pediatric neurosurgeons, as shunt failures are reported post-surgery within the first two years in approximately 40-50% of patients.
The common problems associated are over drainage, infection, and obstruction of distal or proximal ends of catheter ends. The incorporation of antibiotic impregnated shunts are found to be useful in the reduction of shunt failures and infection.
Addressable CSF management devices market
CSF management devices are anticipated to positively impact the treatment procedures of hydrocephalus. Steady developments in stunts and drainage systems are most likely to affect the growth of companies involved in manufacturing neurology devices.
Furthermore, constant progress in neurology research is anticipated to directly affect the growth of clinics, hospitals, laboratories, diagnostic centers, and research organizations. Failure in the conservative treatment options is expected to pronounce the demand for surgical approaches, consequently driving the market growth.
Global CSF management market, by region, 2014 (USD Million)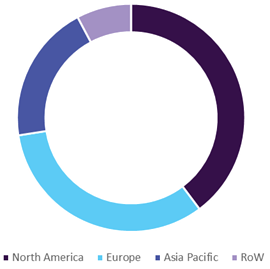 Competitive outlook
In recent years, these devices are receiving great attention from neurosurgeons owing to their success rate in managing brain barrier/fluid-related conditions such as hydrocephalus. Several key players have begun contributing in research for addressing the pitfalls associated with the existing treatment options.
Research carried out in the field of neurological sciences for better understanding of CSF flow dynamics, absorption and its interaction for ventricular compliance in diverse pathophysiological conditions of hydrocephalus is anticipated to bring some novel platforms in market.
Sophysa; Magstim, Johnson & Johnson Services, Inc; Elekta AB; Phoenix Biomedical Corp., Integra LifeSciences Corporation; B. Braun Melsungen AG; Medtronic, Inc.; Spiegelberg GmbH & Co. KG, and Beckersmith Medical, Inc are some of the key players in the marketplace.

In-depth report on the global cerebral spinal fluid (CSF) management market by Grand View Research:
https://www.grandviewresearch.com/industry-analysis/csf-management-market-analysis-market