Clinical chemical analyzers include increasing use of devices and reagents for the measurement of varying levels of sugars, proteins, and other components in the blood. Clinical chemistry testing is carried out to detect disease and its stage of progression. In addition, they help accurately determine condition and state of clinical functions, such as liver function, kidney function, nutrition levels, and others. These tools are widely being adopted in certain clinical conditions such as diabetes, hyperlipidemia, and arteriosclerosis as well as for regular health checkups.
The increasing number of samples requiring screening and need for better quality & cost control encourages companies to invest in R&D to develop new and advanced analyzers. In order to reduce the overall costs and improve productivity, various laboratory equipment vendors are extensively updating their instruments. In the present scenario, scientists and researchers increasingly prefer fast acting reagents and automated analyzers, which process results in lesser time as compared to conventional analyzers. The abovementioned factors serve as potential growth contributing factors toward the market.
These analyzers are capable of analyzing large volume of samples within a short time. Researchers typically use cell-based assays to predict and to optimize possible toxic effects. These products allow automated measurement of complex cellular activity that includes apoptosis, morphological changes, protein trafficking, and adhesion in the living cell. These measurements also facilitate the identification of relevant information pertaining to the components present in a sample. When coupled with image acquisition software, data review, and data reporting & analysis, these tools open new avenues for growth.
These tools also enhance the capabilities to analyze molecular interactions occurring within cells. This helps researchers to efficiently evaluate drug penetration rates, levels, and concentration, simultaneously, in whole cell studies, thus eliminating the need for conventional analyzers.
Global clinical chemical analyzers market, by end use, 2016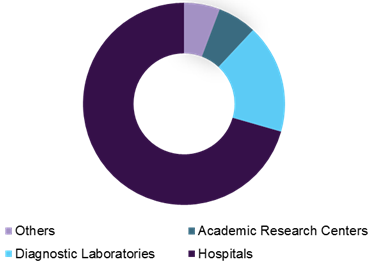 The clinical chemical analyzers market is highly competitive in nature and has a considerable number of players that have high level of dominance over the overall revenue share. The most notable market participants are Mindray Medical International Ltd.; Thermo Fisher Scientific, Inc.; Danaher Corporation; F.Hoffmann-La Roche; Ltd.; Elitech Group; Horiba Ltd.; and Randox Laboratories, which account for a considerable share of the market. These companies are extensively undertaking market sustainability strategies such as strategic collaborations, new product development, and mergers & acquisitions to maximize their industry share.
For instance, in August 2016, Thermo Fisher Scientific, Inc. company received FDA 510(k) clearance for immunoassay designed for specific detection of hydrocodone. This product was launched to expand its clinical chemistry analyzing capabilities to a wide array of applications. Also, in October 2015, Siemens Healthineers launched automated and quantitative TSI thyroid immunoassay. The product was designed for differential diagnosis of Grave's Disease. This product was launched to expand the product portfolio of the company.

In-depth report on global clinical chemical analyzers market by Grand View Research:
http://www.grandviewresearch.com/industry-analysis/clinical-chemistry-analyzer-market