Technological advancements and increasing awareness about cochlear implants and hearing aids on a global level are likely to drive the industry over the coming years. Furthermore, availability of reimbursements in major developed countries further boost the demand for these devices. According to the WHO, about 360,000,000 people in the world suffer from hearing loss and 37,000,000 people could benefit from cochlear implants to treat severe-to-profound hearing loss.
By type of fitting, the market is segmented into unilateral and bilateral implantation. In 2015, unilateral implantation segment dominated the industry due to its availability at a low cost as compared to bilateral implantation and significant ability to localize the sound. However, bilateral implantation is anticipated to witness fastest growth during the forecast period. This can be attributed to its cost-efficiency when implanted in children, good reimbursement, and ability to improve the performance after implantation.
Cochlear implants market share, by geography, 2015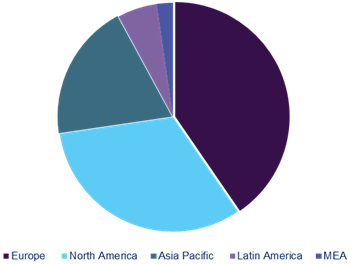 Geographically, Europe accounted for the largest share of the industry, which can be credited to the launch of several technologically advanced implants, local presence of major market players, and supportive health system of the European Union. The health system of Europe allows implantation of device in children at an early age. Furthermore, good reimbursement increases the demand of devices in the region
Asia Pacific is expected to be the most lucrative region of the industry. This can be attributed to rapidly increasing geriatric population, presence of a large patient base, growing awareness & increased healthcare expenditure, and presence of key market players in the region. Australia, Japan, China, India, New Zealand, and Singapore are the key driving countries in the region.
By end-users, adult cochlear implant industry dominated in 2015and is expected to maintain its dominance during the forecast period. This is attributed to the presence of a large patient base, lesser complications involved in surgeries, and increasing geriatric population. However, implant for pediatric segment is expected to observe the fastest growth during the forecast period. Growing awareness, cost-efficiency, higher reimbursement, and less wait time are the key factors that drive the market.
Several regional and international players are operating in the industry. However, the top two to three players dominate the market. Cochlear Ltd., MED-EL, Sonova, Gaes Group, and William Demant Holding A/S are the key players operating in the industry.

In-depth report on global cochlear implants market by Grand View Research:
http://www.grandviewresearch.com/industry-analysis/cochlear-implants-industry