The rapid aging of the population in Asia is a major concern for the governments of the region, most notably in economies such as Japan, India, China, Singapore, and South Korea. Several research studies conducted in recent years project the elderly population of the region to reach nearly 1 billion by 2050. This trend has also resulted in the increased need for enhanced healthcare services and personal care products in the aforementioned countries.
The demand for skin care, anti-aging cosmetics, and personal care products is expected to increase significantly over the coming years, particularly in India, South Korea, China, and Japan. This trend is further expected to drive the demand for collagen, as it is one of the most key ingredients in cosmetic products for anti-aging and skin rejuvenation attributes.
The key sources of the product include bovine, porcine, poultry, and marine, wherein the overall growth of the industry is expected to be driven by the marine segment over the forecast years. This growth can be attributed to the extensive research & development activities being conducted by research organizations and industry players for the development of advanced cosmetics, medical, and pharmaceutical products to cater to the demand from the geriatric population worldwide.
Global collagen market, by region, 2016 (%)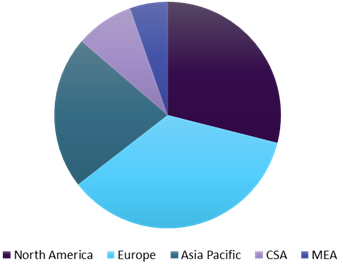 The food & beverages industry dominated the industry in 2016, in terms of revenue, primarily due to growing population, increasing disposable incomes, and the rapid growth of industry segments such as bakery & confectionery, meat processing, and desserts, which make use of industry products such as gelatin and hydrolyzed collagen in large volumes. This industry is also expected to drive the future growth of the industry, projected to grow at comparatively the highest CAGR during the forecast period.
The healthcare segment is also expected to have positive impacts on the overall product demand, mainly owing to the rising demand for healthcare services such as bone reconstruction, cosmetics surgery, and strengthening of bone & joints. Native collagen finds a majority of its applications in healthcare applications.
The global market is dominated by the European region, followed by North America and Asia Pacific. The Asia Pacific region is projected to grow at the highest growth rate during the forecast period, primarily driven by the rapid growth of the geriatric population in the region; growing population; and rising disposable incomes of consumers, which are all significantly driving the growth of the key application industries, including food & beverages, healthcare, and cosmetics.
The Central & South America region is also expected to witness significant growth over the coming years, mainly driven by Brazil, where the presence of JBS-Brasil can be regarded as one of the key factors for the growth of the industry in the country.

In-depth report on global collagen market by Grand View Research:
https://www.grandviewresearch.com/industry-analysis/collagen-market