The collision avoidance systems market has been witnessing a surge in the demand in recent times owing to many factors that have been instrumental in the adoption of these systems in the automotive industry. An increasing usage in high-end automobiles has seen the genesis of collision avoidance systems and since then, the systems have been incorporated in most of the road transport automotive.
The collision avoidance systems have numerous uses such as distance alert, driver alert control, roll stability control system, and lane change alert systems, among others. The growing popularity of adaptive cruise control and blind-spot proximity warning are also anticipated to increase the demand for systems as an increasing number of cars and transport vehicles are incorporating these systems.
Global collision avoidance systems market by technology, 2015 (USD Million)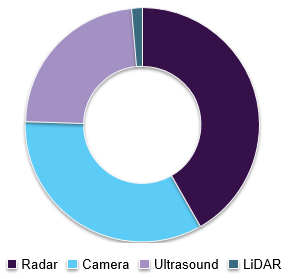 The collision avoidance systems are available in four major types, including ultrasonic, LiDAR, camera, and radar.
Radar, ultrasound camera or LiDAR-based collision avoidance systems offer active safety and pre-crash mitigation capability to motor vehicles. Radars are preferred in systems that require accurate determination of distance and location of any obstacle. Cameras, both vision, and infrared, have a shorter field of view than radar but help in identifying the type of obstacle. Ultrasound systems enable obstacle detection at short distances; they are inexpensive and used predominantly for parking assistance systems. LiDAR-based anti-collision systems offer a wide-view filed and detailed imagery but are highly expensive and bulky for mass automobile production. Radar and camera-based collision avoidance systems are expected to gain significant market share over the next six years.
Radar: Radar systems are the largest segment in the market and their adoption can be attributed to their popularity in the lane departure warning systems and blind-spot detection. These systems have a rather long range and, hence, are in a high demand in various automotive systems. The system works effectively over a long range and is extensively used in applications such as ACC, BSD, FCWS, LDWS, and PA among others.
LiDAR: LiDAR systems are used in surround view systems and are mostly incorporated in high-end vehicles. The recent example is Google's driverless car that leverages this technology by utilizing the pulsating light to measure distances between objects. It also delivers very detailed images and offers a wide field of view.
Camera: The visual aid in driving systems is helpful in many automotive applications, especially spotting objects such as people, animals, and cyclists. This makes them indispensable in some systems but are limited due to the comparatively short range of the camera. In addition, they are affected by dirt and rain, which can hinder the system performance.
Ultrasonic: This type of systems is available in the market on a large scale and is being extensively used due to its low cost and high availability. Ultrasonic systems are mostly used in parking assistance and have been incorporated in numerous car models. Their ability to detect objects at a close range, coupled with an affordable cost, has helped in their market adoption. However, they can lose their share as other technologies are fast gaining ground in the cost as well as performance domains.

In-depth report on global collision avoidance system market by Grand View Research:
https://www.grandviewresearch.com/industry-analysis/collision-avoidance-system-market