Connected enterprise utilizes Internet-of-Things (IoT) IoT to integrate Information Technology (IT) and physical processes. It is a unified integration of Operational Technology (OT) and IT, which employs smart processes that utilize the potential of data analytics to enhance the effectiveness of their operations.
Connected technology is emerging at a faster pace as millions of devices and machines are getting connected leading to new realms of opportunities. Organizations are aggressively adopting connected retail, connected healthcare, and industrial IoT for transforming their business processes. Further, they are embracing data exchange, automation and smart manufacturing technologies as digital solutions are disrupting the industrial sector.
The proliferation of data analytics, smarter end-points, visualization, and mobility is expected to redesign the future of enterprises. Connected devices are powering the next wave of efficiency and innovations by transforming an enterprise's operations. For instance, the conventional plant floor operations relied on manual paper-based processes for every business aspect from quality checks to inventory management. However, with the advent of connected enterprise, the inefficiencies of enterprises are being reduced.
Connected enterprise market, by component, 2015 (USD Billion)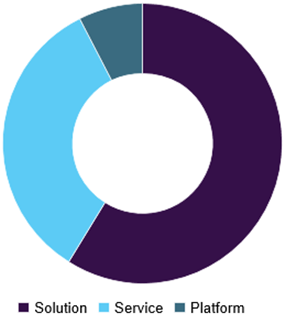 End-use industries are optimizing their supply chain and production capabilities by collaborating the array of information. The key players are considering the needs of their customers and are developing connected solutions to remain competitive. Rockwell Automation has amalgamated with the key companies to develop integrated services and products for broader risk management and better asset optimization.
For instance, Rockwell Automation has collaborated with Cisco Systems, Inc. to bridge the cultural and technological gaps between high-level information systems and plant-floor operations. These companies are jointly developing products, services, and architectures to aid manufacturers in converging and optimizing their network architectures. The company has also collaborated with Microsoft Corporation to accelerate innovations and develop manufacturing information solutions for increasing the value of ownership. The collaboration also reduced the barriers of product optimization.

In-depth report on global connected enterprise market by Grand View Research:
http://www.grandviewresearch.com/industry-analysis/connected-enterprise-market