Coronary Artery Bypass Graft (CABG) is usually performed to restore blood flow to the heart, in case of blocked coronary arteries. CABG is also called as heart bypass surgery, bypass surgery, colloquially heart bypass, and coronary artery bypass surgery. Various approaches and surgical procedures are used to perform this procedure. Firstly, a great saphenous vein (GSV) or long saphenous vein is removed from a leg or thigh and one end of each section is attached to the aorta and other end to the coronary artery below the blockage immediately after the obstruction to restore normal blood flow. Secondly, the left internal thoracic artery (ITA), also known as internal mammary artery is turned to the left anterior descending branch of the left coronary artery to restore regular blood flow.
The surgical procedures in CABG such as single, double, triple, and quadruple bypass refer to the number of coronary arteries bypassed in the procedure. One or more coronary arteries are bypassed at a time, according to the blocked number of arteries. In case of single bypass graft, the Left Anterior Descending (LAD) coronary artery is bypassed; and in double CABG surgery, two coronary arteries such as LAD and Right Coronary Artery (RCA) are bypassed. Similarly, in a triple CABG surgery, three vessels such as LAD, RCA and Left Circumflex Artery (LCX) are bypassed; and in quadruple CABG surgery, four vessels such as LAD, RCA, LCX and first diagonal artery of the LAD are bypassed. One end of each section is attached to the aorta and other ends to the coronary artery below the blockage resulting in restoring normal blood flow.
Technologies used in CABG procedures are on-pump and off-pump CABG (OPCAB). In on-pump CABG surgeries, a mechanical cardiopulmonary bypass machine or heart-lung machine is used to keep the blood circulating throughout the body. The heart-lung machine keeps oxygen-rich blood circulating throughout the body. Cardiothoracic surgeons use a continuous thread to hand sew vessels together in order to bypass the blockages and to restore the blood flow to the heart muscle. In OPCAB, the surgery is performed without using the heart-lung machine. The surgeon gets access to the heart by performing a sternotomy and uses stabilizers to hold stable the artery to be bypassed.
Global CABG market, by region, 2016 (%)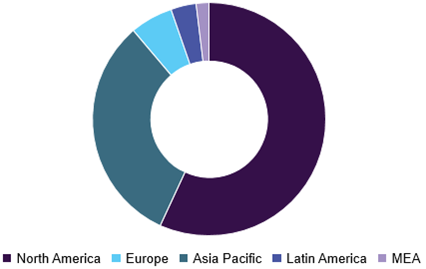 Rising worldwide prevalence of cardiovascular diseases such as coronary heart disease (CHD) or coronary artery disease (CAD), myocardial infarction (MI), and hypertension are anticipated to push the market growth over the forecast period.
Presence of favorable reimbursement policies, such as National Health Insurance (NHI), the U.S. Medicare (federal health insurance program) system, Medicaid, are vital factor supporting the CABG market growth. Furthermore, introduction of technologically advanced products such as minimally invasive direct coronary artery bypass or keyhole, anastomosis assist devices (AAD) and endoscopic vessel harvesting (EVH) devices are expected to fuel the demand for CABG surgeries over the forecast period.

In-depth report on global coronary artery bypass graft (CABG) market by Grand View Research:
http://www.grandviewresearch.com/industry-analysis/coronary-artery-bypass-graft-cabg-market