The discovery of novel technologies that provide the ability to easily edit genomic acids is the key that has unlocked a new era in therapeutic design. While a number of important questions remain, we believe the potential for enormous improvements in the treatment of many diseases is indisputable and exciting. Molecular scissors technology has the potential to take precision medicine to the next level.
Targeting disease with genome editing technology
Genome editing technologies correct disease-causing mutations or prevent host: pathogen interactions, preventing pathological processes from beginning. This is in contrast to traditional small molecule or biologic therapies that predominantly act directly or indirectly at the level of the dysfunctional protein or through interruption of host: pathogen interactions, ameliorating the symptoms. This activity minimizes symptoms of a disease, but rarely prevents or cures them altogether.
Revolution in DNA Editing
Biologists have long been able to edit genomes using the molecular tools. About ten years ago, Zinc Finger Nucleases(ZFN) were the enzymes that were used for editing. ZFNs have compact, non-repetitive, encoding DNA and therefore, can be packaged efficiently in a number of different viral vectors. This provides a delivery advantage over other editing technologies. However, these enzymes were expensive and difficult to engineer. Because of higher off-target activity, however, ZFNs are expected to eventually fall behind than more specific editing technologies for use in the clinic.
Meganucleases are some of the most specific naturally occurring deoxyribose nucleic acid endonuclease. Non-repetitive nature of encoding DNA and small size of these nucleases are important advantages associated with their usage. Difficulty in modification while targeting these to the new sites increases the lead time and cost for developing a new mega nuclease.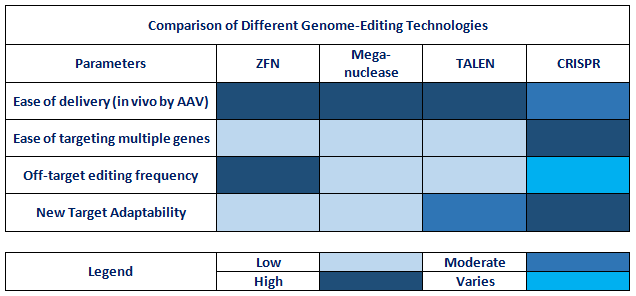 Transcription activator-like effector nucleases (TALENs) are constructed using DNA binding modules derived from proteins called transcription activator-like effectors (TALEs). Although there are delivery issues for these molecules, there high specificity and less off-target effects are pronouncing their demand as a safe technology in therapeutics.
CRISPR methodology is quickly eclipsing zinc finger nucleases and other editing tools. Researchers rely heavily on transgenic models such as fruit flies and mice, partly because they were the only species that came with a good tool kit for genetic manipulation. Now CRISPR makes genome editing possible in different organisms.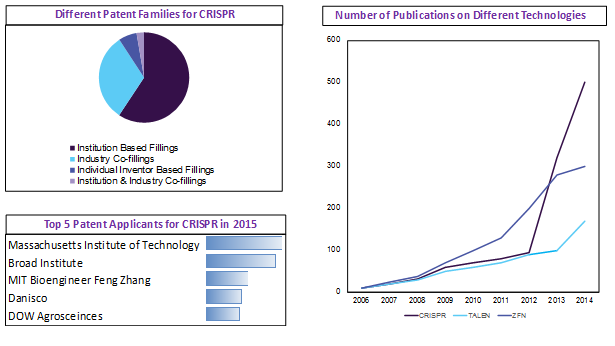 Rising of CRISPR
Increasing priority of the biopharma companies towards the clinical trial in order to increase the probability of products to fill in for patent expirations in the next several years is anticipated to propel market growth. This data point bodes well for the sustainability of continued outperformance for both early and late-stage CROs in the coming years.
Competitive outlook
Companies are engaged in developing novel therapies using Crispr-Cas9 gene-editing system, without waiting to see who wins a patent dispute. Established companies such as Sangamo and Cellectis have products that are further down the pipeline than newer CRISPR companies. The conclusion with that can be drawn on the strategies of market entities for targeting the can be either a careful selection of disease areas or the diversification of product mix. Several companies are taking advantage of developments in molecular scissoring technology to produce products for non-medical purposes.

In-depth report on global CRISPR and CRISPR-associated (cas) genes market by Grand View Research:
http://www.grandviewresearch.com/industry-analysis/crispr-associated-cas-genes-market