CRM solutions enable customer interaction analysis and customer lifecycle data management. They foster customer retention by analyzing a customer's buying behavior; thereby, aiding organizations in developing enhanced customer services. The growing need for exploring untapped customer bases is expected to drive the market growth.
These solutions can be applied across multiple business channels such as supply chain, production, distribution, and marketing and implemented at different points-of-contacts such as company websites, direct mail, live chat, and social media. These solutions comprise various tools, such as marketing automation and sales force automation, which encourage product sales and customer satisfaction.
The geolocation capabilities of CRM aid an organization in modeling its marketing strategies based on its customers' location. These solutions can be deployed on-premise or can be hosted for effective delivery of services. It also enables security and maintenance of a database that can be remotely accessed using external IoT devices such as mobile phones and tablets. Market participants offer support and maintenance services, such as upgrades and data migration facilities, to persuade customer satisfaction.
Global Customer Relationship Management market, by type, 2015 (%)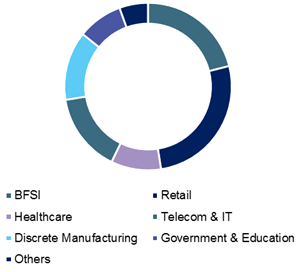 CRM is used across seven major applications, including BFSI, retail, healthcare, telecom & IT, discrete manufacturing, government & manufacturing, and others. These tools are instrumental in addressing customer issues and queries and analyzing their feedback; thus, enhancing customer experience. The growing trend of social media plays a significant role in the adoption of CRM solutions, owing to its transparency in providing customer preferences.
BFSI: These solutions aid in segregating customers and providing customized financial services in the BFSI segment. The solutions also provide efficient customer data management capabilities and extract information from a database for customer profile analysis and marketing.
Retail: Customer Relationship Management solutions use customer headcount analysis to increase customer contact and sales, as they aid retailers in deciding loyalty & reward programs for customers. They aid in increasing footfall for a retail organization by encouraging customer engagement. Retail CRM is also effective in increasing brand loyalty, which is the major area of focus for the retail industry.
Healthcare: The medical data management capabilities of these solutions are used for patient profiling. Healthcare CRM provides disease management facilities via automated notifications and alerts. It also facilitates communication with patients pre- and post-treatment and collects patient feedback.
Telecom & IT: It facilitates cost reduction for telecom service providers. It also helps in customer retention and increases revenues for an organization. Telecom & IT CRM offers customer turnover management solutions by maintaining a customer database, billing information, and managing disputes (by streamlining customer query).
Discrete and manufacturing: These solutions manage custom orders. This enables enhanced control over production processes, schedule tracking, fostering supplier relationship management, and determining accurate pricing of individual products.
Government & Education: Customer Relationship Management aids in maintaining public records and financial management. It ensures streamlined government projects and operations; thereby, enhancing efficiency and preventing fraudulent activities such as data duplication. It offers benefits, such as easy recruitments & enrollment activities, and fosters accountability and student retention.
Others: These solutions are used for different purposes in the aviation, transport & logistics, and defense sectors. The operational complexities involved in the abovementioned sectors encourage the adoption of CRM solutions. Technological advancements, such as cloud deployment, are further increasing the demand for CRM solutions.

In-depth report on global customer relationship management market by Grand View Research:
https://www.grandviewresearch.com/industry-analysis/customer-relationship-management-crm-market