Digital therapeutics comes in the form of a digital systems like mobile applications, software applications or devices. The target group for the medical applications are chronically ill people, health & fitness conscious people, physicians, hospitals, and health insurance companies. The creators of digital therapeutic applications are exploring a niche market and are currently concentrating on making their offerings exclusive and innovative compared to their rivals. According to research data & statistics, approximately 57% of new app developers are struggling to make an impact on the market.
Global digital therapeutics market, by region, 2015 (USD Million)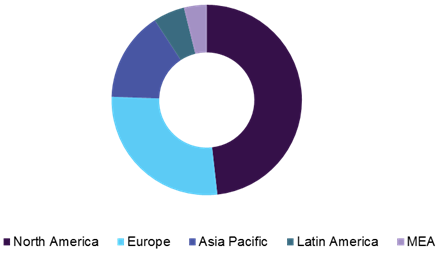 Digital therapeutics is currently witnessing a steady growth with increasing acceptance and smartphone penetration. As internet users are increasing worldwide, the market is expected to benefit. The main objective of this technology is to improve health and living conditions of the general public and reduction of the incidence of chronic disorders. A shift in value-based healthcare delivery is promising, as the patient undergoing treatment is involved in his/her treatment. Furthermore, healthcare delivery is not focused on cure but on the source to altogether prevent the occurrence of disease. If analyzed in detail, this shift paves the way to saving in healthcare costs, which is one of the biggest concerns of healthcare industry.
App developers are actively involved in providing healthcare services that allow patients to seek consultation from healthcare specialists, which helps them keep an effortless watch over their health throughout. Digital therapeutics have the option to implement coaching, where real-time experts guide the users to engage in healthy habits and lifestyle, which is expected to improve the quality of life. Therapeutic applications function remotely to transform an individual's behavior to accomplish positive clinical results.
Currently, the app developers investing in digital therapeutics are witnessing a lack of monetary incentives. Payment is realized through advertisements and transactions that involve the purchase of premium content. However, that is deemed insufficient and is discouraging for people to make significant investments in the market. In addition, the risk of investing in this market is high, since everyday new players are creating innovative solutions, which challenges the foothold of an existing market player. A new entrant always needs to innovate and come up with new ideas to improve their offerings in order to sustain themselves in the digital therapeutics market. Currently, the major players in the market include Livongo Health; WellDoc, Inc., Omada Health; Canary Health; Noom Health; and Propeller Health.

In-depth report on global digital therapeutics market by Grand View Research:
http://www.grandviewresearch.com/industry-analysis/digital-therapeutics-market