Disposable blood pressure (BP) cuffs are used in the blood pressure monitoring and are segmented on the basis of call points. On the basis of its call points, it is classified into surgeons, physicians, and clinicians. The market is expected to witness the fastest growth owing to the presence of factors such as rising concern towards patient safety and growing awareness levels amongst the end users. Moreover, increasing pressure on medical institutions to curb healthcare expenditure is contributing further towards the growing adoption of disposable products in near future.
In addition, growing geriatric population base is presumed to propel the usage rates of BP monitoring devices and thereby upsurge the demand for these products over the forecast period. As per the United Nation's report on world population aging, the proportion of world's population aged 60 years or over increased from 8 percent in 1950 to 12 percent in 2013 and is estimated to reach 21 percent in 2050.
For instance, in the U.S., there are more than 40 million people aged above 65 years, and this geriatric population is expected to become more than double in 2050. This increasing old age population is anticipated to fuel the demand for pressure monitoring devices over the forecast period. The aforementioned factors are responsible for the market growth.
Global disposable blood pressure cuffs market, by call points, 2016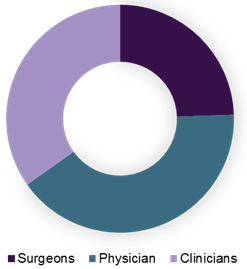 The threat of new entrants for existing manufacturers is high for this industry owing to the factors such as ease of production, ample availability of raw materials, and easy access to the production technology. Fewer entry barriers and rising demand due to growing awareness levels make it favorable for new players to enter into this marketplace.
Physicians segment dominated in 2016. This can be attributed to their wide use of disposable BP cuffs in hospitals. Owing to associated benefits with its usage and rising incidence of hospital-associated infections, the market for BP cuffs used by physicians is expected to display an upward shift. On the other hand, clinicians are anticipated to showcase lucrative growth over the forecast period due to an increasing penetration of standalone clinics and outpatient services for BP monitoring.
Furthermore, increasing outpatient monitoring activities are anticipated to fuel the demand for safe and secure equipment for the patient's treatment which is thereby contributing towards the growing demand for disposables over the forecast period.
Lack of favorable reimbursement policies is the limiting factor for the growth of this industry. The only blood pressure monitor reimbursed by medical policies is the one, which is used for the differentiating and diagnosing white-collar hypertension. The extra expenditure required for disposable BP cuffs is anticipated to hamper the market demand over the forecast period.

In-depth report on disposable blood pressure cuffs market by Grand View Research:
http://www.grandviewresearch.com/industry-analysis/disposable-blood-pressure-cuffs-market