Rising hospital-acquired infection is the major reason for mortality and morbidity in the developed nations. It was observed that the incidence of patient-to-patient cross-contamination is greater via use of 12-lead systems due to outbreak of Serratia marcescens bacteria in patients after cardiac surgery. The use of disposable lead wires (LWs) has a direct impact on the cost reduction associated with cross-contamination as compared to reusable LWs.
Moreover, in data published by University of Wisconsin Hospital and Clinics, Madison, it was reported that more than 77% cases of contamination with Multidrug-Resistant Bacterial Pathogens (MRSA, Vancomycin-Resistant Enterococci (VRE) were connected with the use of reusable ECG lead wires in hospitalized patients.
According to WHO, 7 out of every 100 hospitalized patients will develop hospital-acquired infections in developed countries, whereas, the number will increase to 10 in developing countries due to poor healthcare infrastructure. The rate of ICU-acquired infections is at least 2-3 times higher in developing countries. Hence, significant demand for these products prevails due to such factors.
Global disposable lead wires market, by materials, 2015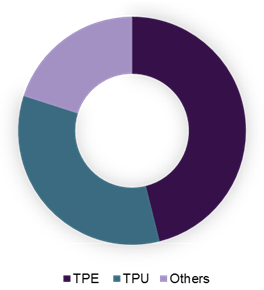 Furthermore, the cost spent by hospitals on hospital-acquired infection is high. For example, as per American Journal of Infection Control in 2013, hospitals in the U.S. spent USD 5 billion every year on healthcare-associated infections. The demand to curb such huge expenditure and control infection creates more avenues for the adoption of disposable lead wires by healthcare professionals.
Introduction of advanced technology such as different lead systems for accurate patient monitoring is anticipated to drive the industry growth over the forecast period. In addition, increased incidence of cardiovascular diseases resulted into growing adoption of ECG equipment and accessories thereby, fueling the demand over the forecast period.
Moreover rising awareness pertaining to associated benefits with the usage of disposable LWs coupled with the demand for enhanced patient safety is anticipated to boost the market growth over the forecast period. Research proved that reusable LWs used on many patients are responsible for the transmission of pathogens that lead to infection, as these wire come in direct contact with patient skin. The advantages of using disposables are as follows: affordability, ease of use, lower risk of contamination, and easy availability, which are anticipated to propel the market.
With the use of disposable LWs, the risk of potential cross-contamination, which is associated with reusable leadwires, is minimized. For instance, the OnePatient disposable ECG LWs is the solution for reducing the risk of infection with improved patient care. These wires directly connect into existing cables of various patient monitors, including Philips IntelliVue, Nihon Kohden, GE Multilink, and Spacelabs TruLink. These disposable LWs offer a non disruptive and simplified clinical workflow. They also save time, as they do not require cleaning and disinfecting between patients. The color-coded end connections of the wires enable quick lead placement and secure connections, which leads to enhanced patient safety.

In-depth report on global disposable lead wires market by Grand View Research:
http://www.grandviewresearch.com/industry-analysis/disposable-lead-wires-market