The application of drone technology in business processes has been typically noticeable in countries having high-quality technical education and a long history of radio-controlled model airplane societies together with the supportive regulatory framework in the region. The aviation industry is witnessing increasing acceptance of drone solutions, owing to emerging opportunities in the industry due to similar knowledge requirement, risks, and functions.
An emerging trend in the industry is the integration of start-ups with large aviation organizations across the world. This integration is aimed at helping start-ups scale their concepts and achieve exceptional results by uniting their knowledge and technology with the aviation player's infrastructure and network.
China drone-powered business solutions market, by drone type, 2015 (USD Million)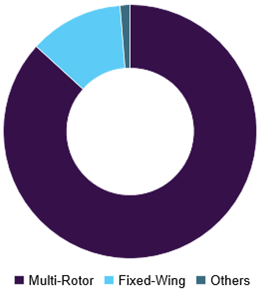 Drone companies are now focusing their efforts to develop and provide their own exclusive software, acquire data on site, process and customize it to their own target industry, thereby provide an overall end-to-end/turnkey solution. The majority of drone service companies start off as a fully integrated solution, a particular strategy for young tech industries/products.
The transformation of commercial drone service providers went from:
- Drone service providers selling a vertically integrated solution, thereby fulfilling all the primary functions for their target industry, to
- Manufacturers of sensors, support equipment and drones and technology providers establishing their position and providing generic solutions to service providers
This evolution is effectively pushing the drone service providers out of the former function, as these entities no longer need to develop and manufacture their own flight systems. The evolution is anticipated to further and enable service providers to shift their focus towards data processing, mainly owing to limitations and difficulties of day-to-day data capturing operations that reduce the ability to scale business.
With the commercial drone industry maturing, companies are increasingly seeking a clearer position on the second axis-function with the following three main functions:
I. Manufacturers and technology providers
- For instance, manufacturers and developers of sensors and flight systems
II. Data collection service providers
- Companies operating drones to acquire data
III. Data processors and analytics service providers
- Analyzing the data and providing end-users with valuable insights
Drones are now being increasingly used to inspect power plant, oil & gas, and other industrial sites to ensure proper operations and safeguard these sites. Although these inspections are necessary, they are relatively difficult to complete and time-consuming. Drone inspection is a safe and cost-effective alternative to plane and helicopter inspections in dangerous locations. Leveraging the capability of waypoint and GPS, the device can be used to conduct autonomous inspection missions and provide real-time video and audio feedback to the control unit, without any risk of injury to the inspector.

In-depth report on global drone-powered business solutions market by Grand View Research:
http://www.grandviewresearch.com/industry-analysis/drone-powered-business-solutions-market