The brain cells are active all the time and they communicate through electrical impulses. EEG is an electrophysiological and noninvasive monitoring technique that is used to record electrical activity of the brain. EEG records the spontaneous electrical activity of the brain by using multiple, small, flat metal discs (electrodes) that are placed on the scalp. EEG is one of the most commonly used techniques for diagnosis of epilepsy, coma, sleep disorders, brain death, and encephalopathy.
EEG was used as the first-line diagnostics technique for stroke, tumors, and other focal brain disorders, but its application has decreased with the introduction of other high-resolution imaging techniques, such as Magnetic Resonance Imaging (MRI) and Computed Tomography (CT). Despite the limited spatial resolution of EEG, it is expected to continue to be a valuable method for diagnosis and research purposes, particularly when millisecond-range temporal resolution is required, which is not possible with CT or MRI. Thus, many hospitals and diagnostics centers have adopted EEGs for brain monitoring, and its application is expected to remain high in near future.
Global EEG devices market share, by region, 2015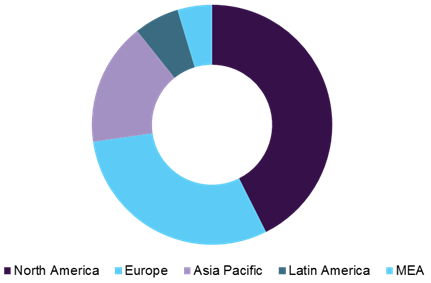 Increasing incidence of neurological disorders such as Alzheimer's disease, epilepsy, and dementia boosts the demand for EEG devices in order to diagnose and monitor these diseases. According to WHO, more than 35.6 million people worldwide suffer from Alzheimer's disease and dementia. On the other hand, the rising geriatric population is another major factor contributing to the growth of the EEG devices market. As stated by WHO, population of those aged 85 years and above is likely to grow from around 14 million to 19 million by 2020 and to about 40 million by 2050. This immense growth is anticipated to boost the market, owing to the increased susceptibility of this population to neurological disorders. Hence, increase in life expectancy in both developing and developed countries is expected to increase the prevalence of various chronic physical and mental conditions, including neurological disorders. Thus, the demand for advanced EEG devices for diagnosis of diseases and brain monitoring is significant and is expected to elevate in the near future.
Currently, there are several global and local vendors present in this market. Some of the key players are Electrical Geodesics, Inc.; Natus Medical, Inc.; Medtronic; Cadwell Laboratories, Inc.; Compumedics Ltd.; Noraxon U.S.A. Inc.; NeuroWave Systems, Inc.; and Nihon Kohden America, Inc. There are many other small and large manufacturers offering EEG devices, as a result of which there is an intense competition in the market.
The vendors are majorly focused on organic as well as inorganic strategic initiatives, such as new product launch, acquisitions, mergers, and strategic collaborations. This assists the manufacturers in strengthening their product portfolio and expanding their global presence. For instance, in October 2013, Electrical Geodesics, Inc. acquired Avatar EEG Solutions to expand its portable EEG product portfolio with 8-channel EEG recorder. Also, in September 2015, Compumedics Ltd announced a new 3-year contract with its distribution partner, Kwangwon, for retailing Company's Neuroscan brain research and neurology systems in South Korea.

In-depth report on global electroencephalography (EEG) systems/devices market by Grand View Research:
http://www.grandviewresearch.com/industry-analysis/electroencephalography-eeg-systems-devices-market