While there is high demand for measures to minimize the complications in surgeries, including bleeding and unintended tissue cuts, and decrease post-surgery healing time, electrosurgery has proven to efficiently satisfy almost all these needs.
Electrosurgical devices have witnessed a swift change in technology enabling them perform better with increased safety. These devices have various advantages over traditional surgical techniques, such as minimal bleeding, low probability of infection, faster recovery time, and cost-effectiveness.
These advantages have enabled the usage of these surgical devices in almost all major branches of medicine, including gynecology, dentistry, neurology, orthopedics, cardiovascular, gastroenterology, urology, pneumology, gastroenterology, and general surgery. Due to technological advancements, these devices can be used in doctors' office settings. Thus, doctors' offices are potential customers for these devices. Basically, electrosurgery can be used in any surgery that includes one or more of the following procedures:
- Cutting
- Fulguration
- Desiccation
Depending on the above mentioned procedures and the type of tissues or organs involved, surgeons have a wide range of electrosurgical pencils to select from. The development of these different types of electrodes is one of the principal factors affecting the market dynamics for these devices.
Global Electrosurgical Devices Market, by Region, 2015, (USD Million)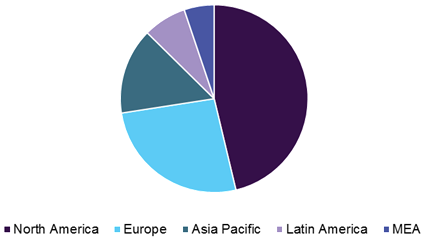 The evolution of electrosurgical equipment is shifting from monopolar to bipolar devices, owing to their advantages:
- High patient convenience
- Minimized leakage of current
- Low risk of unintentional cut or burn
However, the monopolar technique still finds application in significant number of procedures, including smaller surgeries that include tissue ablation. Monopolar electrodes are convenient for surgeons in such procedures.
The scope of innovation in electrosurgical electrodes is higher than other accessories. As these electrodes play an important role, based on the type of surgery and tissues involved, a wide range of electrodes that are designed specifically for these surgeries are available. The introduction of disposable electrodes has helped in reducing the prices significantly, thus minimizing the overall procedural costs.
Major companies are focused on R&D for advanced and innovative devices to keep pace with the growing competition. However, electrosurgical devices require skilled professionals to operate them. Lack of such professionals may pose a threat to the market growth. However, major companies have begun providing training for the same and, hence, the restraining effect is expected to subside over time.
There are only a few major international companies supplying the electrosurgical devices. These companies currently hold a major share of the market; however, the current market dynamics such as high demand of these products in developing regions and emergence of local players are expected to increase the level of competition. In addition, availability of affordable devices through these local market players might pose a great threat to the sales of international players.

In-depth report on global electrosurgical devices market by Grand View Research:
http://www.grandviewresearch.com/industry-analysis/electrosurgical-devices-market