The enterprise wearable technology has become one of the major industries with an ever-broadening potential to expand over the forecast period. A large spectrum of wearable devices, such as smart glasses & watches, clothes, skin patches, and various health-monitoring gadgets, are making a significant mark in the consumer electronics market. The growing acceptance of the Bring Your Own Device (BYOD) concept in enterprises, by allowing users to bring their wearable devices at workplaces, would eventually help in the market growth. Wearable devices can be used at workplaces to ensure security by continuously authenticating the identity of users.
The report primarily segregates the enterprise market by technology, product, application, and region. Bluetooth Low Energy (BLE) is the most suitable connectivity technology used in wearables as this protocol is optimized for the ultra-low power short-range communication.This technology aids in reducing the energy required for connectivity, which helps in reducing the dimension of the battery used, thus eventually decreasing the overall cost and weight of wearables.
U.S. enterprise wearable market, by application, 2015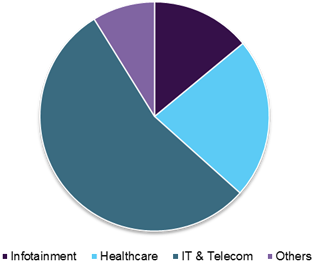 The global demand for the IoT technology is growing as various enterprises are working toward developing a more connected environment for people. IoT technology with wearable device is helping organizations for utilizing user-centric data in development of the value-added services.
The healthcare sector is the most lucrative sector for enterprise wearables. Many industry players are undertaking extensive research and development in the health monitoring segment, which has resulted in the development of comfortable, portable, and accurate devices to measure vital parameters, such as heart rate, temperature, oxygen saturation, blood pressure, activity level, and calories burned. The increased awareness about health and wellness, rising aging population, and rising chronic diseases such as heart attack and diabetes, globally, are anticipated to drive the demand for healthcare wearable devices over the forecast period.
North America accounted for the highest adoption of enterprise wearable devices in various applications and held the largest revenue share in the 2015, followed by Europe.The widespread adoption of wearable devices in the region is attributed to the increasing fitness awareness and growing demand for remote patient monitoring for the aging population. In addition to this, the U.S. fitness programs have also helped in boosting the demand for wearable devices across the region.

In-depth report on global enterprise wearable market by Grand View Research:
http://www.grandviewresearch.com/industry-analysis/the-global-enterprise-wearables-market