The fat replacer market is projected to witness considerable growth across the world owing to its high demand in the food and beverage processing industry. Encouragement from health groups and government agencies have further catalyzed the awareness of nutritional and balanced diet. According to the USDA, saturated fat intake should be limited to 10% of the daily energy intake.
The food industry has introduced many low-fat, reduced calorie, and fat-free products to help consumers meet dietary goals. Fat replacers divided into carbohydrate-based, protein-based and fat-based.
Carbohydrate-based fat replacers replicate the creaminess of fat content and are also used as thickeners and stabilizers in baked food, salad dressings, frozen desserts, confectionaries, meat, and dairy products.
Protein-based fat replacers are derived from milk, egg, soy, whey, and wheat gluten. The product is used widely in frozen and refrigerated food & beverages. Carbohydrate- and protein-based fat mimetics are not used for frying purposes as they retain a substantial amount of water.
Fat-based or lipid-based fat substitutes are made of the fat molecules itself, it passes through the body unabsorbed or partially absorbed. The product has an advantage of been heat stable and hence is used for frying purposes.
Fat replacers are widely utilized in the bakery & confectionery, dairy & frozen dessert, beverages, processed meat, dressings, margarine & spreads, and convenience food industry. Over the past years, a significant number of new products were developed; owing to wider application usage, and demand better food quality. Companies have been continuously modifying and upgrading the product specification according to changing industry standards.
Fat replacer market share, by region (2015)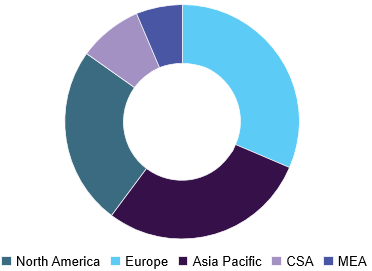 Asia Pacific is projected to register maximum growth in food & beverage processing industry owing to the population boom and increasing convenience food demand. China and India are major consumers as well as producers of processed food products, thereby complementing the need for fat replacers.
Low-calories goals set up by users across the world are expected to boost the demand for low-fat and skimmed food & beverages, thus increasing the market demand. North America and Europe is anticipated to register high demand for fat-free products on account of increasing prevalence of obesity, heart diseases, and high cholesterol levels.
Massive investments in the food & beverage industry coupled with growing technological advancements are projected to influence market growth positively. Some of the prominent players operating in this market are Cargill Incorporated, Archer Daniels Midland Company, Ashland Global Holdings Inc., Kerry Group PLC., Ulrick & Short, and DSM.

In-depth report on global fat replacer market by Grand View Research:
http://www.grandviewresearch.com/industry-analysis/fat-replacers-market