Some of the most common applications of flow cytometry include immunophenotyping, cell sorting, cell proliferation assays, and intracellular calcium flux. The associated advantages with its usage such as user friendliness, specialized research & clinical applications, and fluorescence capabilities are anticipated to drive the market growth over the forecast period.
The flow cytometry market has been segmented into technology, products & services, application, end-use, and geographies. On the basis of technology, it is segmented into cell-based flow cytometry and bead-based flow cytometry. On the basis of products & services offered by companies, the market is segmented into flow cytometry instruments, reagents & consumables, accessories, software, and services. Flow cytometry has applications in the research and clinical field.
This technology is used in research for drug discovery, stem cell research and in vitro toxicity testing studies. In addition, it has applications in apoptosis, cell sorting, cell cycle analysis, immunology, and cell viability studies. In clinical diagnostics, flow cytometry is used in hematology studies, organ transplantation, and detection of cancer & immunodeficiency disorders. The end users for this market are hospitals, commercial organizations, clinical testing labs, and academic institutes.
The biotechnology industry is expected to showcase significant growth over the forecast period in Latin America due to increasing healthcare expenditure in developed countries and improvisation in healthcare facilities. Rising instances of external funding to conduct clinical studies pertaining to the field of in vitro molecular diagnosis are expected to drive the market, as these initiatives play a vital role in the process of new product development.
Growth in the biotechnology sector is expected to uplift flow cytometry market owing to the use of different parameters for research and development studies. Furthermore, it is also expected to showcase growth as a consequence of its huge applications in different fields including cell culture, drug discovery, and stem cell therapy.
Global flow cytometry market, by technology, 2016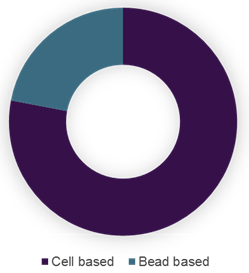 Advancement in technology for cell-based assays are innovation in instruments, labels, affinity reagents, software, and algorithms. These aforementioned factors are expected to fuel the market growth in the near future. For example, automated microcapillary cytometry, which was recently introduced, is a time-saving and cost-effective procedure for cell analysis study. Furthermore, this technique combines the ability of bioinformatics and robotics.
Flow cytometry is widely used in the pharmaceutical research segment. Increasing demand for faster and accurate cancer prognostic tools coupled with rising prevalence rate of the same are the key factors attributing for its large share. Research pertaining to drug development, stem cell therapy, and in vitro toxicity testing are expected to fuel the market growth over the forecast period. In addition, rising adoption of molecular assays in stem cell therapy and for toxicity testing of biological molecules in new drug development are the factors contributing to the growth.

In-depth report on global flow cytometry market by Grand View Research:
http://www.grandviewresearch.com/industry-analysis/flow-cytometry-market