Rise in geriatric population and increasing incidence of Age-related Macular Degeneration (AMD), Diabetic Retinopathy (DR), and glaucoma across the globe are anticipated to boost the market during the forecast period.
Furthermore, advancements in fundus cameras and commercialization of products are likely to drive the market in the coming years. In December 2016, Epipole Ltd. launched epiCam C, a color hand-held fundus camera, in UK. This device can connect to a PC, laptop, or tablet via a USB cable and does not have a battery. Hence, advancements in terms of portability, weight, and image quality are likely to boost the market.
Fundus cameras market share, by geography, 2015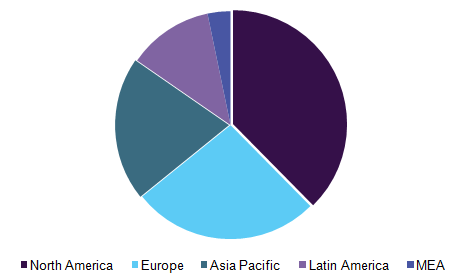 In product type, non-mydriatic fundus cameras dominated the market in 2015 due to the availability of several commercialized products with the ability to provide detailed anatomy of the retina without the use of dilating drop and bright lights for photography. However, the hybrid camera segment is anticipated to grow at the fastest rate during the forecast period as it provides advantages of both mydriatic and non-mydriatic cameras.
Tabletop cameras dominated the market in 2015 due to their ability to provide a clearer image of the retina. However, the handheld camera segment is anticipated to be more lucrative during the forecast period due to their user-friendliness and affordability.
Ophthalmic & optometrist offices dominated the end-use segment in 2015 and is expected to maintain its dominance over the coming years. Increasing preference of patients for primary eye care, and availability of well-equipped offices in developed countries are likely to boost the ophthalmic & optometrist offices segment during the forecast period.
Geographically, North America contributed the highest share to the market in 2015 due to technological advances, higher approvals, and launch of various fundus cameras, as well as government support for reimbursement. However, Asia Pacific is witnessing strong growth during the forecast period due to the local presence of major market players, increasing adoption of new technologies, and presence of a large pool of patients.
Investing in R&D to commercialize products that are portable, affordable, and provide clear and in-depth images of the retina is a key strategy of the industry players. For instance, Carl Zeiss Meditec, Inc. received FDA approval for Swept-Source OCT technology and VisuMax Small Incision Lenticule Extraction (SMILE) procedure in November and September 2016, respectively. Furthermore, in September 2014 the company commercialized VISUSCOUT 100 portable fundus camera for retinal examination.

In-depth report on global Hexane market by Grand View Research:
http://www.grandviewresearch.com/industry-analysis/fundus-cameras-market