Glass scintillator is a material that constitutes of lithium silicate along with activated cerium. It has ability to detect high intensity gamma radiation, which is mostly radiated during the operation of nuclear power plant. The primary raw materials that are utilized during the production of glass scintillator include lithium silicate, cerium, and other chemicals.
The demand for scintillator is increasing on account shortage in the supply of helium, which is used as a material for thermal neutron detection. The lithium-based material is useful due to lower atomic number, which imparts gamma transparency, and is thus advantageous. The scintillator has useful properties which include higher resolution, broad transmission, better mechanical hardness, and enhanced energy proportionality. The lithium used in interacts with neutron to produce high energy particles, which are easier to detect and measure.
Lithium glass scintillator is useful in oil and gas exploration due to its ability to perform under the harsh working conditions of temperature and pressure. It is used for the detection of pore pressure and rock mechanical properties. The determination of mechanical properties of rock benefits the drillers in terms of effective drilling decision, which in turn helps in enhancing the drilling efficiency. The drilling efficiency, in turn, depends on drilling speed, borehole pressure, and other similar characteristics. The neutron and gamma ray detection capability is enhanced by using lithium-based glass scintillator, which is further expected to fuel the market growth over the forecast period.
U.S. glass scintillators market, by product (USD million), 2016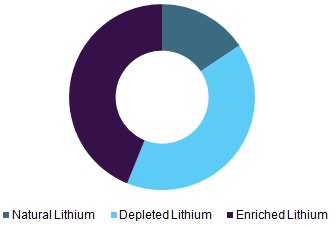 The scintillator is finding increasing use in nuclear power plants in developed countries as a large number of countries are focused on using alternative energy sources apart from fossil fuels. The U.S. produces around 20% electricity from nuclear power plants, which is a major reason for the higher share of lithium-based glass scintillator in the North America region. North America was leading the global market in terms of revenue in 2016 and is anticipated to continue the trend over the years ahead. The demand for glass scintillators from various application segments is fueled by increase in demand for energy.
The emerging economies of Asia Pacific such as China, India, South Korea, and others are increasingly relying on nuclear power, which is further expected to boost the lithium scintillator growth over the forecast period in these regions. It finds use in analytical instruments for neutron detection, which is further projected to fuel the market demand over the forecast period.
Key players in the market have strengthened their presence across the value chain by increasing their spending in R&D, partnerships, and acquisitions with tier one companies. Some of the key market players in the market are Saint-Gobain Ceramics & Plastics, Inc., Scintacor Ltd and GeeBee International.

In-depth report on global glass scintillator market by Grand View Research:
https://www.grandviewresearch.com/industry-analysis/glass-scintillator-market