In recent years, roofing materials industry has witnessed an intensified interest in products that promote energy efficiency and sustainability. The industry today is marked with manufacturers, distributors and contractors who focus on offering products that are environmentally friendly and quality services that ensure long-term relationships enhancing customer loyalty. New materials, information, and technology are changing patterns of work in the construction industry and this, in turn, has had a direct positive impact on roofing materials demand.
The most prominent trend in the market is the rising demand for environmentally friendly products promoting energy efficiency as well as sustainability. These trends are majorly driven by the availability of incentives in the form of government tax credits and a rapid surge in demand for eco-friendly roofing products.
Roofing Material Market Volume Share, By Product, 2015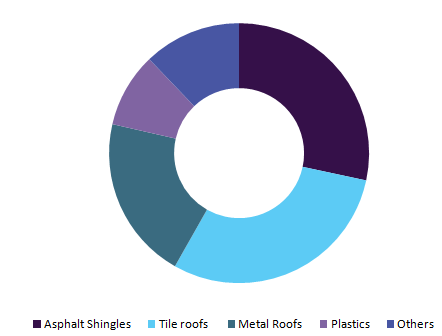 In upcoming years, the demand for roofing materials is expected to be fueled by resurging residential building construction activities in developed nations, such as the US, which are projected to register positive growth rate. Further growth is likely to be supported by emerging markets in Asia Pacific where new residential demand is likely to account for over 35% of the roofing materials demand.
Industry Overview
The roofing materials' industry is greatly influenced by seasonal fluctuations. As compared to the construction industry, roofing materials are mainly marked by seasonal fluctuations related to employment. This situation can largely be attributed to the demand for activities such as reroofing, renovation, etc. which is likely to be less volatile than the demand for new construction.
Contractors build up strategic alliances with material suppliers with an aim to serve a large number of customers and also expand their geographic presence. Apart from periods of industry downturn, the roofing materials industry operates at full employment capacity during the summer months. During the winter, unemployment typically exceeds 50%.

All these conditions majorly impact the labor market conditions. Demand for skilled labor has created a natural role for unions which has trained, mobilized and recruited the workforce for decades.
Product Overview
The metal roof is expected to emerge as the fastest growing product during the forecast period. The metal roof is known to have a high service life and is extremely durable. Although these roofs have high initial costs, their long-term cost is known to be low. Stainless steel, aluminum, copper, etc. are most widely used materials for manufacturing Metal roof. In emerging markets, the concept of metal roof was introduced to replace asbestos cement panels. The demand for this product segment is slated to gain ground with the development of pre-engineered steel buildings for non-residential applications.

Tile roofs are anticipated to emerge as the largest product segment but are likely to register low growth rate as compared to asphalt shingles. Since many years, architects have preferred clay tiles for residential construction owing to environmental as well as a visual advantage which they provide. In recent years, shingles which were widely used in the North American market have witnessed robust growth in developing regions owing to ease of installation, high durability, and moderate price.
Future Trends
Roofing materials market will not change dramatically in the future, but the market is expected to witness noteworthy efforts to improve performance, alleviate environmental impact and develop technology to reduce costs. Market participants will strive for the development of "high performance roof systems" i.e., roofs that facilitate a high level of wind and fire resistance, improved energy efficiency, longer service life, etc.
Industry trends also point out that market players are expected to focus on warranty related issues of roofing materials and for the same will concentrate on developing flexible and efficient production process. Technology change is expected to make way for new products, well-defined specification manuals, high standards of service.
Increasing awareness for sustainable roofing and implementation of green building codes have already taken centre stage. Such regulations are anticipated to push, although delicately, novel methods of installing new roofs as well as repairing the old ones. Thus it is the re-roofing market which is likely to witness workforce changes, regarding skills and demand.

In-depth report on global roofing materials market by Grand View Research:
http://www.grandviewresearch.com/industry-analysis/roofing-materials-market