Healthcare mobility solutions help in simplifying complex business processes & workflow management in hospitals and boost operational efficiency of the company. The aforementioned benefits with its usage are anticipated to drive the industry growth over the forecast period. Moreover, increasing usage of social media in healthcare is anticipated to fuel demand in the coming years.
Social media is an integral part of life nowadays and has moved from being just a tool for sharing private status to being used for serious discussions and as a business platform. Although the medical industry is restricted by regulatory protocols, the utility of social media is creating a huge impact on modern healthcare. Hospitals are the early adopters of social network. The usage of social media by these hospitals is majorly for following purposes:
- Recruitment of medical professionals
- Patient feedback
- New services, such patient education portals
- Creating awareness about diseases and product recalls
Global healthcare mobility solutions market, by product & services, 2015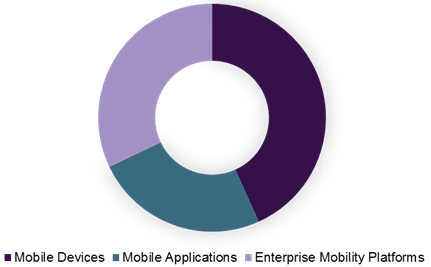 High adoption of smartphones and tablets is expected to drive the market growth in near future. The associated benefits with the use of mHealth devices, such as remote access to clinical information and maintaining & managing of patient health with continuous online monitoring, are expected to propel the growth over the forecast period.
In addition, growing adoption of wearable devices, introduction of technologically advance health information management systems, and rising initiatives pertaining to adoption of telemedicine are the other growth propellers for this market. For instance, the Indian government launched "Sehat," a telemedicine initiative, in August 2015 to provide health facilities in rural areas of the country.
The government in developing countries is focusing on providing affordable health care facilities, which is anticipated to drive the usage of healthcare mobility solutions in these regions over the forecast period.
Furthermore, rising adoption of cloud-based technology, which saves the operational cost, reduces data complexity, and offers remote access to medical information, is the factor anticipated to drive growth in near future. Most of the hospitals in developed regions use cloud-based health information management systems, which can be attributed to the growth of healthcare mobility services.
Adoption of mHealth apps resulted in reduction in hospital admissions & duplication of medication receipts & appointments as well as enhanced decision making related to medical facilities by patients. Moreover, an enterprise mobility solution adds value to the workflow management and reduces the cost. The aforementioned factors are expected to boost the market growth in near future.

In-depth report on global healthcare mobility solutions market by Grand View Research:
http://www.grandviewresearch.com/industry-analysis/healthcare-mobility-solutions-market