Dialysis has been used since the late 1800s to help patients recycle the waste produced, thereby prolonging their lives. Since then, it has witnessed rapid advancements in technologies. However, it has been observed that there is higher market share for hemodialysis over peritoneal dialysis constantly.
The industry is anticipated to witness growth over the forecast period owing to the rising burden of chronic kidney conditions. Furthermore, the development of ancillary diseases such as diabetes, which eventually leads to organ dysfunctions and failures is a vitally impacting condition. Various agencies across the world are focusing on increasing the number of treatment centers and boosting education amongst patients to support & promote development of user-friendly, portable, & high performance devices.
An important factor expected to negatively impact the market is the development of artificial organs by means of technologies such as 3D printing. This may lead to higher kidney transplants and lower the need for dialysis. However, it is expected that these technologies might require around 5-6 years to accomplish desired results. Hence, they may affect the market in the latter stage of the forecast period.
The report aims at highlighting the factors supporting growth and showcasing certain developments that will affect the market. For instance, as of 2016, efforts are being made toward higher adoption of home-based procedures, leading to an increased focus of regulatory bodies over education, training, and enhanced scrutiny of the devices to promote safe usage.
Global hemodialysis and peritoneal dialysis market, by region, 2015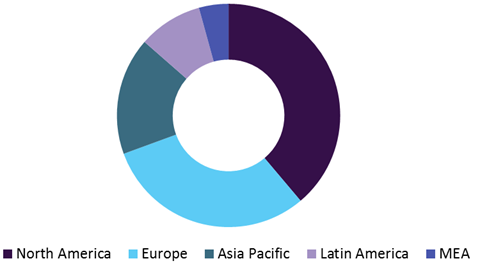 NxStage Medical, Inc. is one of the players working toward reinventing the dialysis process. It is currently working on the development of a bag less automated peritoneal dialysis machine. This home-based machine is expected to be launched by the fourth quarter of 2016 and gain regulatory approval by mid of 2017.
Similarly, Baxter is currently undertaking clinical trials in the U.S. for their home-based machine that has received CE approval in 2013. This move supports the shift toward home-based treatment and facilitates entry of its new product in the U.S. As of 2015, Baxter dominated the European market, whereas Fresenius Medical Care AG & Co. KGaA (FMC) held majority of the market share within the U.S. region.
In order to maintain their dominant market share, FMC is also researching on the development of a new home-based hemodialysis machine. In addition, the company is working on the development of a cycler peritoneal device DialEase, which is planned to be launched across 2,300 centers by 2018.
Furthermore, in 2014, the Agency of Clinical Innovation in Australia launched the "Home First Dialysis Model of Care" post rigorous research aimed at furnishing improved care to patients under treatment. It stated that patients opting for home-based treatment witnessed a lower rate of depression and more flexibility & freedom leading to increased positive outcomes.
Thus, the aforementioned projects by key industry players and initiatives undertaken by clinical agencies are a testimony to the rising interest and inclination of the industry toward home-based treatment. These procedures are expected to provide patients with a balanced and healthy normal life, preventing the need to spend long hours at centers.

In-depth report on global hemodialysis and peritoneal dialysis market by Grand View Research:
http://www.grandviewresearch.com/industry-analysis/hemodialysis-peritoneal-dialysis-market