Certain benefits of treating patient at home includes improved patient outcomes, cost efficiency, and patient preferred setting. These benefits give home healthcare edge over treating patients in traditional settings. Following are the various licensed services offered by different home healthcare agencies:
- Chronic disease management, including medical treatment at home
- Long term care especially in post-operative recovery
- Care to improve patient's mobility status
- Management of mental health conditions
- Care which avoids unnecessary hospitalization
Trends which are driving the demand for home healthcare services:
- Shift from supply driven towards demand driven consumer model:
Healthcare is one of the supply driven industry, but in future it is not expected to be so. Patients are key elements that act as catalyst to this paradigm shift which answers their needs and convenience. Patients are progressively involved in self-care in the present scenario. In doing so patient's demand regarding transparency, access to their medical information and comprehension about treatment being prescribed, is fulfilled. Hence, providing best possible solution having efficiency in terms of cost and speedy recovery is essential for providers. Internet, an important factor is responsible for this changing consumer behavior. Integration of technology has successfully built a nexus between care providers and patient's, bringing transparency, trust, and efficiency.
- Hospital solutions providers diversifying in different healthcare settings:
The establishment and maintenance of hospitals and other such healthcare establishments are capital intensive in nature and entail large investments in terms of capital and operational expenses. Therefore, care providers with the help of mergers and acquisitions are now entering the rapidly growing home healthcare market in an attempt to capitalize on the available opportunities and reduce costs. Moreover, these companies engage extensively in merger and acquisition initiatives to enhance regional presence. For example, in 2014, National Nursing & Rehab acquired Home Health Services to expand its reach into the Texas metropolitan areas.
Global home healthcare market, by region, 2015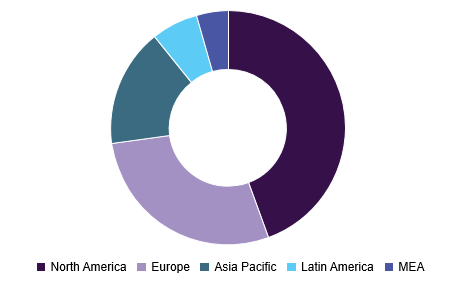 Public vs. private reimbursement structure analysis:
According to the U.S. Department of Health and Human Services, an average of 20 hours per week of home care services per geriatric individual is required. This service cost around USD 14-32 per hour, and may vary further depending on the level of skill required in nursing care. In order to cater to long-term care needs of the people, the government has formulated insurance cover plans in both private and public sectors.
Medicare is the largest payer for these services in the U.S. since the last two decades. Home healthcare medical expenses are being promoted by the Medicare since 1960. Law enacted in 1965 by the Medicare focused on accelerating the home healthcare market growth by these covering services for geriatric patients. According to market player annual reports, currently over 40.0% of the revenues generated for Homecare Medical Equipment (HME) is covered by Medicare and Medicaid. Other sources of funding from the public sector include Medicaid, Title XX Social Services Block Grants, Civilian Health and Medical Program of the Uniformed Services (CHAMPUS), the Veterans' Administration, and the Older Americans Act.
Medicaid covers in-house services and personal care services that are not covered by Medicare. These two are expected to boost market growth over the forecast period by increasing the number of certified agencies along with enhancing the coverage offered to senior citizens of the country. The reimbursements are provided to agencies and facilities that are certified by Medicare.

In-depth report on global home healthcare market by Grand View Research:
http://www.grandviewresearch.com/industry-analysis/home-healthcare-industry