Macro trends for homecare settings
Rising demand for reduction in hospital stay has led to the development of technology to perform infusion therapy at home or in alternate healthcare settings, thereby boosting the growth of this market in the near future. Home infusion is gradually being considered as an excellent alternative for the patients suffering from chronic diseases as compared to an extended hospital stay or admission in a nursing home.
Currently, major chronic diseases include cancer, diabetes, respiratory disorders, and cardiovascular diseases. With the administration of medications in the homecare settings, patients are reported to recover at a faster rate owing to increase in their comfort levels.
Global home infusion pump market, by product, 2015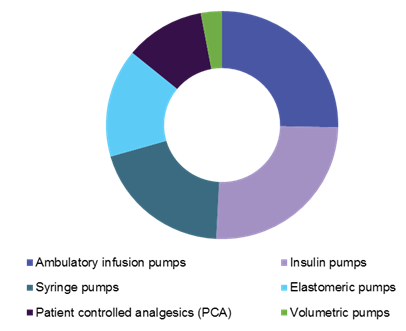 Due to rising levels of disease prevalence, healthcare expenditure levels are expected to grow during the forecast period. Hence, home healthcare is considered a cost-effective treatment in comparison to expensive hospital stays, which is expected to serve this market as a high impact rendering driver throughout the forecast period. Presence of wide range of home infusion pumps for home care settings is estimated to provide this market with potential growth opportunities.
Home infusion therapy market is booming owing to novel advances in technology
Infusion pumps were earlier used only in healthcare facilities worldwide, but now find extensive demand in outpatient care units and assisted living facilities. Technologically advanced products, such as smart pumps, have made use of infusion therapy easier in the home care settings. Such devices have resulted in enhanced demand for home infusion therapy.
Increasing incidence of hospital acquired infections is also expected to facilitate the requirement of home infusion therapy. As these infections are caused by more harmful pathogens compared to those that are community-acquired, patients prefer convalesce at home
North America is gaining importance for home infusion therapy
North America is considered as the largest market for home infusion therapy owing to its well-established government reimbursement structure. In addition, the rising need for long-term therapy is enhancing market demand. Asia Pacific is expected to gain lucrative CAGR over the forecast period. The factors attributing toward growth include the rising patient awareness levels pertaining to the benefits of home infusion therapy and growing economic condition in this region.

In-depth report on global Hexane market by Grand View Research:
http://www.grandviewresearch.com/industry-analysis/home-infusion-therapy-market