Love begins by taking care of the closest ones - the ones at home" - Mother Teresa
Home - a place where mind is at peace and soul is at rest. There can be no other place better than home for optimum recovery of health and that too at a quicker pace, given that proper care and help is provided under informed guidance. In these pandemic times, this is what is required to save lives and maintain abundance of resources along with availability of medical help for the needy. There are plenty of ways in ensuring proper care at home, one of the important ones is Home Infusion Therapy.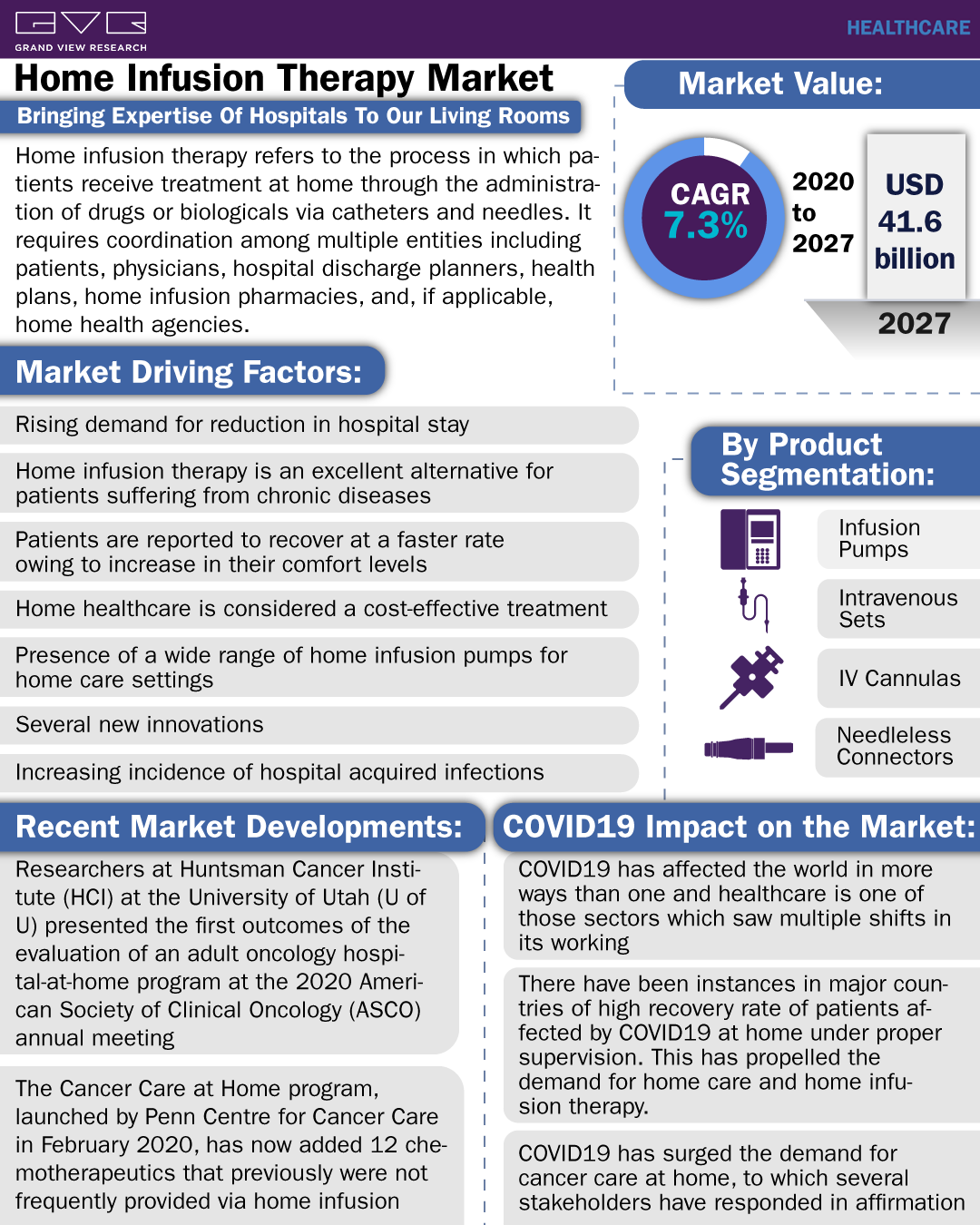 Home Infusion Therapy - What, Why & How?
Home infusion therapy refers to the process in which patients receive treatment at home through the administration of drugs or biologicals through catheters and needles. It involves the intravenous or subcutaneous administration of drugs or biologicals to an individual, for which the components that are needed consists of the drug (for example, antivirals, immune globulin), equipment (for example, a pump), and supplies (for example, tubing and catheters). Along with this, other important thing which is of utmost importance is the medical supervision and training that is needed to be imparted to the patient and caregivers at home. Visiting nurses play a major role in this process. The home infusion process typically requires coordination among multiple entities, including patients, physicians, hospital discharge planners, health plans, home infusion pharmacies, and, if applicable, home health agencies.
Home infusion therapy provides relief to the patient from various diseases and has been proven to be highly effective in boosting recovery. The diseases against which it has proved its mettle are cancers and the divergent pain which is caused by cancer, dehydration, diarrhoea, vomiting and other complex diseases. Some of the best infusion therapies involved in the treatments are anti-coagulation therapy, antibiotic/ antiviral, anti-emetics, anti-haemophilic factors, blood component stimulating factor, chemotherapy, enteral nutrition, hydration, pain management and total parental nutrition among others. These therapies showed much improvement and several other factors also boosted its demand so much that Home Infusion Therapy market is anticipated to reach USD 41.6 billion by 2027, according to a new report by Grand View Research, Inc., registering a CAGR of 7.3% in the upcoming years.
Market Factors At Play
Rising demand for reduction in hospital stay has led to the development of technology to perform infusion therapy at home or in alternate healthcare settings, thereby boosting the growth of this market in the near future. Home infusion is gradually being considered as an excellent alternative for the patients suffering from chronic diseases as compared to an extended hospital stay or admission in a nursing home.
Currently, major chronic diseases include cancer, diabetes, respiratory disorders, and cardiovascular diseases. With the administration of medications in the homecare settings, patients are reported to recover at a faster rate owing to increase in their comfort levels.
Due to rising levels of disease prevalence, healthcare expenditure levels are expected to grow during the forecast period. Hence, home healthcare is considered a cost-effective treatment in comparison to expensive hospital stays, which is expected to serve this market as a high impact rendering driver throughout the forecast period. Presence of wide range of home infusion pumps for home care settings is estimated to provide this market with potential growth opportunities. The distribution of pumps in the market will give better insights about the range of pumps in the market.
Global home infusion pump market, by product, 2015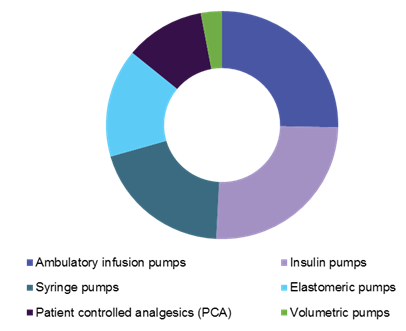 Recently, several new innovations have been adhered in the market, which has greatly boosted the effectivity of home infusion therapy care. Technologically advanced products, such as smart pumps, have made use of infusion therapy easier in the home care settings. Such devices have resulted in enhanced demand for home infusion therapy.
Increasing incidence of hospital acquired infections is also expected to facilitate the requirement of home infusion therapy. As these infections are caused by more harmful pathogens compared to those that are community-acquired, patients prefer to convalesce at home.
COVID-19 has affected the world in more ways than one and healthcare is one of those sectors which saw multiple shifts in its working. There have been instances in major countries of high recovery rate of patients affected by COVID-19 at home under proper supervision. This has given new demand to home care and home infusion therapy is sure to see more growth from this pandemic in the coming years.
Regional Insights
North America is considered as the largest market for home infusion therapy owing to its well-established government reimbursement structure. In addition, the rising need for long-term therapy is enhancing market demand. Asia Pacific is expected to gain lucrative CAGR over the forecast period. The factors attributing toward growth include the rising patient awareness levels pertaining to the benefits of home infusion therapy and growing economic condition in this region.
Competitive Insights
As the growth in the market rises, so does the competition among the key players. Global market is highly competitive, and players focus on rapid adoption of advanced healthcare technology to gain an upper hand in the market.Moreover, in order to retain market share and diversify their product portfolio, major players often adopt strategies such as mergers, acquisitions, and new product launches. Some of the key players in the market are B. Braun Melsungen AG; Baxter; Caesarea Medical Electronics; CareFusion Corporation; Fresenius Kabi; ICU Medical, Inc.; JMS Co. Ltd.; Smiths Medical; and Terumo Corporation.
Some of the market developments are as follows:
Researchers at Huntsman Cancer Institute (HCI) at the University of Utah (U of U) presented the first outcomes evaluation of an adult oncology hospital-at-home program at the 2020 American Society of Clinical Oncology (ASCO) annual meeting. The results bring in fresh air of hope for the cancer patients, as it highlights the improvements gained by the patients due to home care with less rate of hospitalization and recommends it to be carried out mostly.

The Cancer Care at Home program, launched by Penn Centre for Cancer Care in February 2020, has now added 12 chemotherapeutics that previously were not frequently provided via home infusion. The Cancer Care at Home program offers patients the services of a multidisciplinary care team, all trained in home infusion therapy. These team members include clinical pharmacists and Oncology Nursing Society–certified nurses as well as palliative care providers. COVID-19 has also pushed the demand for cancer care at home, to which several stakeholders have responded in affirmation.

In-depth report on global home infusion therapy market by Grand View Research:
https://www.grandviewresearch.com/industry-analysis/home-infusion-therapy-market