Imaging chemicals are among the most vital component of imaging industry. The importance of these chemicals has been realized and recognized over the past few years only. These products help in achieving greater efficiency by delivering clarity to the end results. Their demand is benefitted with rapidly advancing technologies and rising demand from the medical sector.
The significance of these chemicals is yet to be unveiled. Additional efforts are required to further explore the significance of these chemicals in several application areas. These are materials which exhibit a very high degree of industrial efficiency. This has resulted in rising demand from various industries including medical, textile, mining, waste water treatment and others. Rise in medical imaging in economies including Japan and China has played a major role in augmenting the demand in the last few years this trend is expected to continue over the forecast period.
Over the past few years, the industry has experienced subsequent shifts in technology, and even production. The manufacturers have been investing in several R&D projects to help the producers achieve optimum product quality at minimum cost.
Global imaging chemicals market revenue, by application, 2016 (%)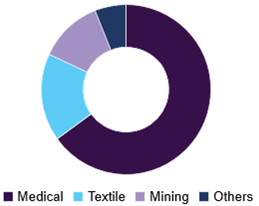 The imaging chemicals market is expected to witness significant market demand on account of growing necessity in end-use industries including medical, textile, mining and others. Medical applications held the largest market share owing to its wide-scale usage in MRI, X-ray, ultrasound and other imaging diagnostics technologies. Several broad trends including rising purchasing power, increased government expenditure on healthcare, longer life expectancies, consumer health awareness, and the growing incidence of chronic developed-world diseases associated with changing lifestyles are expected to boost the demand for medical imaging chemicals.
The market in developed countries such as Japan, U.S., UK, and others is heading towards maturity. Application of imaging chemicals particularly in these countries is anticipated to expand in industrial, government, educational, civilian and commercial communities to serve several purposes across areas such as agriculture, geology, hydrology, oceanography. Imaging technologies are also used to visualize volcanic heat in order to gain deeper insights. While, textile applications are expected to gain adoption across emerging economies of Brazil, China and India.
The market is dominated by few companies which have large production capacities. The market is also moving towards consolidation as smaller manufacturers are being acquired by large companies owing to the expansion strategy adopted by the large corporations. The market has witnessed key mergers and acquisition over the past few years.
Companies are adopting backward and forward integration in order to increase their contribution margins and have higher bargaining power. This will intensify the competition in the market and help in pushing the market towards growth over the forecast period.

In-depth report on global imaging chemicals market by Grand View Research:
https://www.grandviewresearch.com/industry-analysis/imaging-chemicals-market