Immunohistochemistry (IHC) is a technique used to identify certain antigens in tissue sections with labeled antibodies that rely on antigen-antibody interactions. The immunohistochemistry method is used to locate cell or tissue antigens that range from amino acids & proteins to infectious agents & exact cellular populations. IHC is used in clinical diagnosis as a routine diagnostic approach in several clinical activities.
Immunohistochemical staining is the most preferred method used in the diagnosis of irregular cells such as those that originate in cancerous tumors. Molecular markers represent specific cellular events such as cell death (apoptosis), making it of great importance in the treatment of chronic diseases. Immunohistochemistry is also widely used in basic research studies to understand the dispersal of biomarkers in various parts of a biological tissue. Immunohistochemical methods play a major role in the diagnosis of lymphoproliferative disorders (LPDs). These methods help understand the reactive or malignant nature of a lesion and the origin of atypical cells. Immunohistochemistry staining process is used to check the level of HER2 receptor proteins in a tumor on the surface of the cancer cells. The presence of a large amount of HER2 receptors indicates that the cells would grow and divide at an expanding rate.
Global immunohistochemistry market, by region, 2016 (USD Million)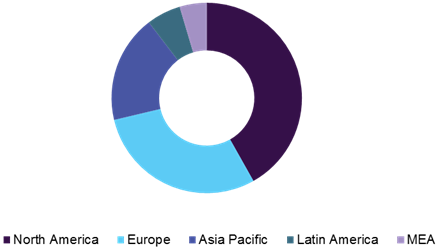 North America led the market with the largest revenue share owing to the rapid evolution of clinical immunohistochemistry in the region. IHC represents an important breakthrough in precision medicine for disease treatment and prevention. IHC takes into consideration clinical and pathological characteristics in individuals and acts on specific molecular targets that are associated with disease cells. The healthcare system in the U.S. is shifting from the traditional fee-for-service model into a value-based care model that focuses on patients. The rising healthcare costs is a major national issue and value-based healthcare is expected to play a crucial role to curb this issue. In addition, the increasing lifespan of people is expected to increase the overall cancer risk. The rising prevalence of cancer due to lifestyle and changes in food habits is one of the major factors influencing the demand for IHC products.
On the other hand, the Asia Pacific region is expected to register fastest growth rate in the immunohistochemistry market owing to the presence of developed economies such as Australia, Japan, and Singapore. Furthermore, developing economies in countries like India and China play a major role in creating high demand for IHC products. The increasing healthcare expenses influenced by rising geriatric population, growing occurrence of chronic illnesses, and the need to introduce new technologies in the healthcare system will further influence a lucrative growth in the APAC region.

In-depth report on global immunohistochemistry (IHC) market by Grand View Research:
http://www.grandviewresearch.com/industry-analysis/immunohistochemistry-ihc-market