In the food & beverages industry, air contamination is viewed as a key point of concern. A minor handling error or production leakage may result in disastrous end product. Air is also a key ingredient in the processed food industry, and can carry up to 1500 bacteria per cubic meter. Industrial air filters are used to eliminate these harmful bacteria keeping the food & beverages production environment clean.
Global industrial air filtration market by product, 2015 (USD Million)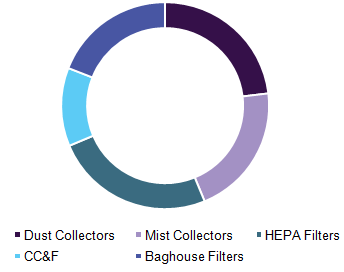 The airborne contamination is controlled mainly by three technical strategies including, ventilation, filtration, and source control. Industrial air filtration strategy is used to filter the outdoor air that is brought in through HVAC system. The food & beverages industry phase filter, removes gasses, odors and volatile organic compounds (VOCs) along with media filters that remove particulates.
The growing consumption of processed food & beverages is expected to be the key reason for higher processed food production and industrial air filter demand. Further, urbanization has also increased processed food demand which is expected to catapult the industrial air filter demand over the forecast period.
Analyst Perspective
The global industrial air filtration market is anticipated to witness considerable growth over the forecast period. This is primarily attributed to mandatory government regulations on pollution and toxic gas emissions across the world. The governments across the globe have introduced policies, and regulations, as well as compliance to, create a healthy working environment for the employees. The industry is highly competitive, wherein leading players are constantly innovating and developing new products to obtain a competitive edge.
The government regulations pertaining to emission norms are expected to drive industrial air filtration market demand. Further, enforcement of occupational health and safety regulations in several regions is further expected to catapult product demand over the next nine years. An increasing number of regulations pertaining to food safety along with retailer manufacturing standards and codes of practice for high-risk food manufacture is expected to provide avenues for market growth.

In-depth report on global Hexane market by Grand View Research:
http://www.grandviewresearch.com/industry-analysis/industrial-air-filtration-market