Connected technology is reshaping the retail landscape to produce data that can be leveraged to improve operations. The adoption of smart devices is expected to reduce the shopping time of customers. Retailers are slowly evolving to explore advanced ways to connect with smart devices for enhancing the in-store experience. In consumer electronics and home improvement sectors, retailers are driving the sales of connected devices and extending their operations for creating new revenue streams.
IoT in retail market, by technology, 2015 (USD Billion)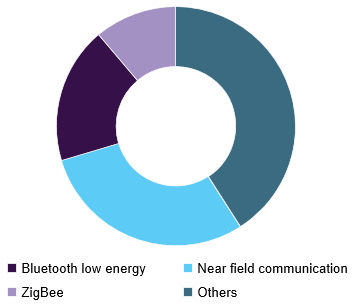 One of the developments includes the adoption of location-based beacon technology, which is used to interact with customers directly. Beacons are small battery-powered devices using the Bluetooth Low Energy (BLE) technology to transmit the signal to connected objects. Multiple beacons are positioned inside the stores to broadcast relevant product information to customers on their portable devices. For instance, department store brands, such as Hudson's Bay and Lord & Taylor, have deployed Apple's iBeacon technology to deliver personalized promotions to customers.
Retailers are leveraging an ample amount of data gathered by these interactions to improve operational efficiency. The use of IoT sensors to track consumer's path inside the store is improving the merchandise placement strategy. For instance, Hugo Boss tracks customer movements with the help of heat sensors which are installed in in its clothing section. The tracking of consumer path helps retailers to manage the placement of premium products in high-traffic areas.
Connected products and devices provide retailers with ample opportunities to optimize store operations such as supply chain, logistics, and inventory management. IoT devices are integrated within the supply chain to improve store operations further, thereby reducing the costs. For instance, RFID tags and readers are improving the precision of inventory tracking. IoT-enabled sensors assist store managers in monitoring the temperature and lighting control for the cost-effective energy usages. These connected platforms offer a direct channel to retailers for generating potential information related to utility usage, consumption trends, and consumer behavior.
The declining component cost is providing traction to the growth of the retail IoT market. The architectural similarities between devices and network levels are contributing to the declining cost as IoT is benefitting from the ongoing advancements. Advancements in the functionality of smartphones along with the increase in competition and large volume adoption have dramatically reduced the prices throughout the value chain.

In-depth report on global internet of things (IoT) in retail market by Grand View Research:
https://www.grandviewresearch.com/industry-analysis/internet-of-things-iot-retail-market