Intraoperative Neuromonitoring (IONM) is used to reduce the morbidity during operative manipulations. It detects changes in the spine, brain, & peripheral nerves, which can be avoided before the damage is irreversible. It is also used for localizing anatomical structures aiding the dissection. Surgeons are trained to incorporate IONM in their procedures. Technologists also assist neurosurgeons and orthopedic surgeons during the surgeries.
Insource IONM dominated the market in 2015. However, outsourced IONM is rapidly gaining the roots in the market. The continuous development of devices makes it challenging for hospitals to procure the latest technology. Moreover, it is an expensive and time-consuming affair to train neurophysiologists. The outsourcing firms offer a flexible working style wherein they work with the in-house neurologist. This helps maintain the professional component in a hospital and also serves as a quality check.
Intraoperative Neuromonitoring (IONM) Market Share, by Geography, 2015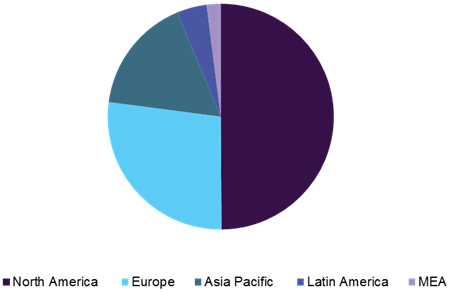 North America dominated the market in 2015 and is expected to continue its dominance over the forecast period. Early adoption of new technology and launch of newer products contribute to this growth. For instance, in April 2015, Natus Medical Incorporated launched a new product, Quantum amplifier, which is used for epilepsy & seizure monitoring. It has been approved by the FDA and has CE mark.
Asia Pacific is expected to be the most lucrative region of the industry. This can be attributed to rapidly increasing geriatric population, the presence of a large patient base, growing awareness, increased healthcare expenditure, and efforts of industry players to enter the market by introducing new products.
Technological advancement is one of the major drivers that is expected to propel the market growth in the coming years. Some of the key industry contributors are Biotronic NeuroNetwork, LLC, Medtronic, Accurate Monitoring, NuVasive Inc, Natus Medical Incorporated, SpecialtyCare, Sentient Medical Systems, and NeuroMonitoring Technologies.

In-depth report on global intraoperative neuromonitoring (IONM) market by Grand View Research:
http://www.grandviewresearch.com/industry-analysis/intraoperative-neuromonitoring-market