Patient warming systems assist the healthcare professional prevent unintentional hypothermia and related complications. There are various types of patient warming systems, including in-line intravascular warming systems, surface warming systems, and cabinet systems. The intravascular warming systems are used for acute care and perioperative care in operating rooms, ICUs, emergency rooms, recovery rooms, and preoperative care units. In many cases, anesthesia provided to patients before surgery makes their body temperature low. Hence, these devices are widely used pre-, post- and perioperatively in order to reduce the risk of surgical complications.
The intravascular warming systems allow real-time heating of blood and other fluids during transfusion. The application of these devices is increasing in different healthcare facilities such as operating rooms, ICUs, emergency rooms, and recovery rooms. The increasing adoption of these devices is due to their various benefits, such as prevention of hypothermia and improved patient safety.
Global intravascular warming systems market share, by region, 2015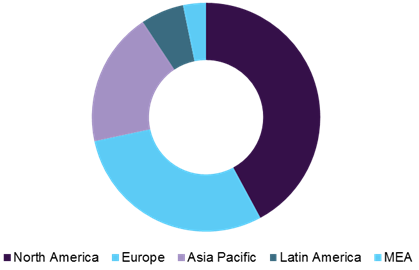 The escalating number of surgical procedures is a major factor boosting the growth of the market. For instance, the number of pediatric cardiac surgeries conducted by UCSF Benioff Children's Hospital, San Francisco, was 296 in 2012 and 352 in 2013. Based on AANS National Neurosurgical Procedural Statistics, 2,296,331 neurosurgeries had been performed in 2011. Growing number of pediatric surgeries and increasing geriatric population has led to growing demand for these products.
Significant technological advancements have taken place in intravascular warming systems. The leading manufacturers are developing portable, easy-to-handle, battery-powered devices that aim at uninterrupted movement of patients in hospitals from one department to another. The portability feature of these devices also facilitates convenient usage post-trauma or while transporting a patient to the hospital. Some intravascular warming systems are manufactured based on desired surgical needs. For instance, FluidoIrrigation by The 37Company assists in adjusting temperature from 30°C up to 39°C, according to surgical needs, thus facilitating smooth surgeries.
The intravascular warming systems market participants are a blend of both large, well-established public companies and small market firms. These include 3M; The 37 Company; Stryker Corp.; Smiths Medical, Inc.; Inditherm Plc.; Becton, Dickinson and Company; Geratherm Medical AG; and Estill Medical Technologies, Inc. The major players such as The 37Company and Smiths Medical exhibit distinct and extensive product portfolios coupled with a strong regional presence.

In-depth report on global intravascular warming systems market by Grand View Research:
http://www.grandviewresearch.com/industry-analysis/intravascular-warming-systems-market