Palm oil is a widely consumed product in Iran, being majorly imported from Malaysia. The Iranian economy is currently recovering from the impact of Western sanctions, which had negatively influenced the supply & import of several essentials into the region.
The lifting of these sanctions has facilitated easier trade & negotiations in recent years, after the country signed a nuclear agreement with a group of global powers including the U.S., the UK, Russia, France and China. The agreement has also had a positive impact on the business environment in Iran, attracting Malaysian and Indonesian imports, and leading to greater product availability.
Iran is also emerging as one of the top cosmetic consumers in the world. The influence of Western culture & social media has largely impacted consumer perceptions regarding grooming & personal appearance. This in turn has driven cosmetics consumption, while the trend towards organic and sustainable products has boosted palm oil consumption in soaps, shampoos and moisturizers among other cosmetics.
Fluctuating crude oil prices & declining fossil fuel reserves have encouraged bio-based alternatives such as palm-based biodiesel in Iran. Automobile manufacturers are increasingly integrating sustainable, biofuel-supportive engines in their vehicles to comply with regulatory standards that foster lower greenhouse gas (GHG) missions.
Iran also presents vast potential in the oils and fats market. The country is highly attractive for international investors given its strategic geographic location & availability of resources. These factors are expected to prove conducive to industry growth since the product is widely used as a substitute for vegetable oils and other products.
The Iran government had also imposed an import quota in 2014, limiting product imports to not more than 30% of the overall oils and fats imports. This led to a decline of 47% in imports in 2015. However, in 2016, the government withdrew the import quota but replaced it with an import tax of 40%, leading to an increase in imports from Malaysia by 10%.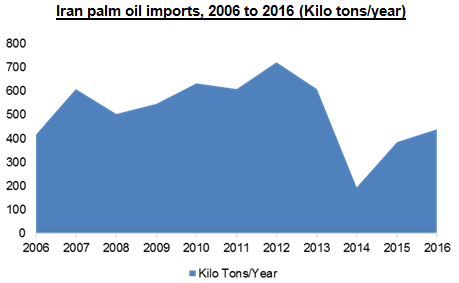 Palm oil has distinctive characteristics depending upon the type of oil derived from either the palm fruit or kernel respectively. The product is also priced lower than conventional vegetable oils such as sunflower, soybean and groundnut oil. Thus, palm products have proved to be more economically viable in major end-use industries such as food and beverages, confectionary, lubricants and surfactants.
The industry is dominated by a few major players including Kala Gostaran Sabz Andish Co Ltd, Middle East Gold Star Co., Golbarg Baharan, Savola Behshar Company, Jahan Vegetablle oil Company, Eghtsad-Andish Inc., Pars Vegetable Oil Co., Cargill Palm Products Sdn Bhd, Margarine Manufacturing Co. Ltd.

In-depth report on iran palm oil market by Grand View Research:
https://www.grandviewresearch.com/industry-analysis/iran-palm-oil-market