Kidney function tests are urine and blood tests used in detection and monitoring of kidney disease. Kidney function panel includes tests to measure the levels of various components: phosphorus, potassium, sodium, carbon dioxide, albumin, creatinine, calcium, chloride, and glucose. These predominantly include Acute Kidney Injury (AKI), end-stage kidney disease, nephrotic syndrome, kidney failure, and Chronic Kidney Disease (CKD). CKD is one of the most prevalent conditions and is considered as a major public health concern. According to National Chronic Kidney Disease Fact Sheet, approximately 10% of the U.S. adult population is suffering from Chronic Kidney Disease. Moreover, increasing healthcare costs are exerting a major impact on the market and causing a shift in demand to preventive medicine, which includes kidney function tests, thereby widening the growth prospects for this market.
Diabetes and hypertension are believed to be some of the major causes of CKD. In addition to the aforementioned factors, According to the National Kidney Foundation, 26 million American adults have CKD and many more are at risk of developing the same. This high prevalence has triggered clinics to enforce early detection and prognosis in all age groups, which is anticipated to create high-potential growth opportunities for kidney function tests market.
Global kidney function tests market, by region, 2016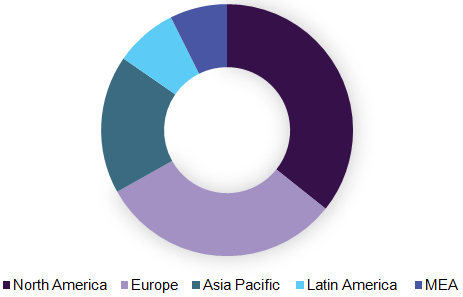 Consistent efforts by public as well as private healthcare organizations to promote awareness pertaining to diagnostic and treatment measures for highly prevalent kidney diseases are predicted to be one of the high growth rendering drivers for this market. In addition, they conduct surveillance projects and health outcomes & economic studies in collaboration with healthcare agencies to enhance chronic disease management programs.
These organizations also focus on issuing guidelines & recommendation and proper implementation of the same for efficient CKD management. For instance, CDC's CKD Initiative, which is designed to formulate comprehensive health strategies to counter risk factors associated with CKD, helps promote early diagnosis, spread awareness about treatment measures, and improve patient outcomes. Similarly, Australian and New Zealand Society of Nephrology is consistently focused on releasing policy guidelines on prevention, early detection, and management of CKD as well as encouraging training & education of workforce for management of CKD in remote areas.
Furthermore, National Kidney Foundation's (NKF) Dialysis Outcome Quality Initiative (DOQI) develops clinical guidelines that are aimed at improving patient outcomes, especially in the early stages of kidney disease, through standardization of laboratory evaluation of kidney diseases, which results in reduction of mortality & morbidity related to kidney failure.
The kidney function tests market space is highly competitive in nature and consists of some of the players together accounting for major market share. The most notable market participants are Abbott Laboratories, which account for a considerable share of the market. These market players are aggressively deploying competitive strategies, such as new product development, strategic collaborations, and mergers & acquisitions, to maximize their industry share.

In-depth report on global kidney function tests market by Grand View Research:
http://www.grandviewresearch.com/industry-analysis/kidney-function-tests-market