Legionella is found in fresh water environments, but can pose a severe threat when it grows in human-made water systems, such as hot water tanks, showers, hot tubs, and large plumbing systems. Legionella causes serious respiratory disorders, such as Legionellosis (a form of pneumonia). The Legionella testing market is grouped into water testing and IVD testing, based on applications.
Global Legionella testing market, by type, 2015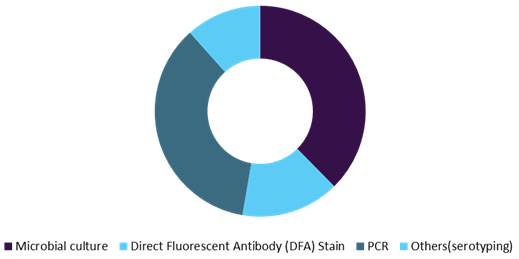 Increasing incidence of Legionnaires' disease needs preventive measures
According to CDC, the number of people suffering from Legionnaires' disease rose from 3,688 in 2012 to 4,548 in 2013. Legionnaires' disease is one of the common types of pneumonia that requires intensive care. The incidence of pneumonia and related disorders is constantly rising due the contaminated environment.
In addition, Legionella poses threat to number of industries, as it is one of the most dangerous water-borne bacteria that grow in warm water. The potential end users that can be affected include hotels, hospitals, schools, swimming pools, etc. Hence, there is a critical need for timely and accurate diagnosis of Legionella and related infections, which will drive market growth.
Advanced diagnostic techniques are paving way for market growth
The conventional bacterial testing methods are often labor intensive and time consuming in nature. In addition, they rely on manual interference, which can cause contamination of results. Bacterial testing has witnessed technological advancements in the form of automation and digitalization.
Rapid diagnostic methods are precise, sensitive, and mostly automated. Automation saves half of the time required for diagnostic procedures, reduces the burden of manual efforts, and yields accurate results. Diagnostic lab automation generates standardized and reproducible results. Therefore, advanced rapid diagnostic methods are being preferred.
Europe held the majority of market share in 2015
Europe was identified as the largest market for Legionella testing. This is primarily due to the high level of awareness about Legionellosis and related diseases among the government authorities. In some of the European countries, the governments mandate Legionella testing for industrial sectors, especially those involving use of hot water settings. On the other hand, Asia Pacific region is projected to showcase fastest growth rate over the forecast period.
Key market players
The key market players in Legionella testing market include Beckman Coulter, Inc.; Bio-Rad Laboratories, Inc.; Alere, Inc.; Roche Diagnostics; Thermo Fischer Scientific, Inc.; and Becton, Dickinson and Company (BD). Some of the expansion strategies deployed by companies include mergers & acquisitions, collaborations, product launches, and regional expansions.

In-depth report on global legionella testing market by Grand View Research:
http://www.grandviewresearch.com/industry-analysis/legionella-testing-market