Magnetic resonance imaging (MRI) is a scanning technique that uses strong magnetic field and radio waves to produce detailed images of internal structure of body. These images are displayed on a computer screen using various software. To obtain better images, contrast agent (Gadolinium) is given intravenously to obtain better resolution image after scanning in some cases. MRI has application in diagnosis and monitoring treatment for variety of chronic conditions within brain, chest, abdomen and pelvis.
Global magnetic resonance imaging market, by region, 2015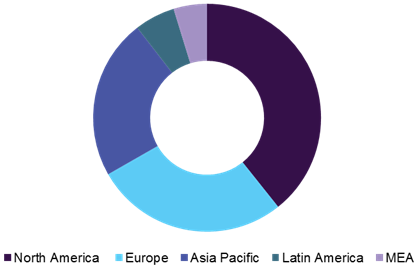 Architecture is the outer body of imaging device. Based on architecture, closed and open type devices are commercially available. Closed systems segment captured the largest revenue share in the global MRI sector owing to the oldest design in this field. However, this instrument has a very low acceptance by patients having claustrophobia and risk of suffocation. Thus, open systems were developed which are suitable for patients having claustrophobia.
In addition, high field strength devices give high resolution images with high speed scanning. However, high cost is challenging the adoption of these devices. As a result, medium field strength is in demand owing to affordable cost and high resolution images sufficient for disease diagnosis.
The prime driver of the market is growing research on imaging and scanning technologies resulting in introduction of advanced products with improved image quality. Also, the growing prevalence of chronic diseases such as cancer, brain tumor and other diseases which require detailed diagnosis using MRI are boosting the market growth. In addition, unhealthy dietary habits, and increasing road accidents are augmenting the growth of prevalence of chronic conditions that require diagnosis using magnetic resonance imaging system.
On other hand, the reimbursement rates for imaging is declining as compared to other diagnostic procedures. Thus, scans are becoming less affordable to patients. Thus, all the above factors are expected to affect the growth of the sector negatively.
Very few players such as Siemens AG; Koninklijke Philips N.V.; GE Healthcare; Hitachi Medical Systems that are leading the industry. These players hold a strong position in the global market due to commercial availability of their products across the globe and strong brand identity. Some other players operating in this market include but are not limited to Toshiba Corporation; Aurora Imaging Technologies, Inc.; Esaote SpA; Sanrad Medical Systems Pvt. Ltd. Inc.

In-depth report on global magnetic resonance imaging (MRI) market by Grand View Research:
http://www.grandviewresearch.com/industry-analysis/magnetic-resonance-imaging-market