Increasing emphasis of manufacturers towards ensuring safe & healthy working conditions in factories and warehouses is a chief reason spurring materials handling equipment market. Further, increasing demand for automated solutions owing to upsurge in technological developments in this domain may augment product sales. In addition, significant drop in labor cost through adoption of robotic systems may drive the materials handling systems market growth.
The escalating demand for the warehousing services owing to the upsurge in e-commerce industry, is a major factor instigating global materials handling equipment market demand. A noticeable shift towards technically advanced robotic systems is further expected to fuel materials handling tools demand in the near future. Upsurge in demand for automated material handling systems across automotive, food & beverage, pharmaceutical and chemical sectors will significantly spur the market demand.
Global materials handling equipment by product, 2015 (USD Billion)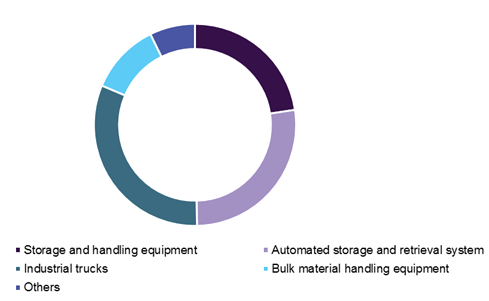 The graph above suggests that industrial trucks segment accounted for a significant share in 2015 owing to the high usage of pallet-jacks, small hand-operated trucks, and various kinds of forklifts in warehouses, automotive & other manufacturing sectors. However, automated storage & retrieval systems are anticipated to witness high growth over the forecast period owing to rising espousal of automation in several end-use industries.
Automation reduces labor cost, increases efficiency and saves time. Thus, automation solutions such as conveyor systems, robotic delivery systems, and Automatic guided vehicles (AGVs) are projected to drive the market over the forecast period.
Analyst Perspective
The rise in manufacturing activities in Asia Pacific is further expected to catapult the demand for materials handling equipment over the forecast period. Asia pacific, particularly China is projected to witness significant growth in the near future owing to the espousal of automation across automotive, semiconductor manufacturing, chemical, pharmaceutical and warehouses.
Intensifying need of global manufacturing companies to automate manufacturing operations and ensure seamless supply chain functions, the market is expected to witness substantial growth over the forecast period. However, rise in equipment prices owing to ever-increasing raw material prices such as steel is anticipated to hamper market growth.
The rise in industrial and infrastructural activities in Asia pacific and rest of the world is projected to offer several avenues for adoption of automated solutions. Ease of operation and savings in terms of cost & time is triggering several manufacturers to incorporate their factories & warehouses with automated storage & retrieval systems.
Moreover, rise in disposable income in developing nations is a key reason for the high growth the e-commerce sector is witnessing. The rise in e-commerce transactions, necessitates the set-up of more organized warehouses, thereby spurring materials handling tools sales. Thus, owing to the aforementioned factors, materials handling equipment market is expected to witness substantial growth over the next nine years.

In-depth report on global material handling equipment market by Grand View Research:
http://www.grandviewresearch.com/industry-analysis/materials-handling-equipment-market