Glossy effect is a thing of the past. Gone are the days when people used to like things that are shiny. Matting agents are benefitting from this scenario. These additives provide excellent sheen and gloss control without affecting the mechanical and optical properties of the coating.
Matting agents diffuse the incident light on the surface thus causing a reduction in glossiness. This decrease, results in an impression of a matt surface. The intensity of the additive is determined by the diffuse reflection properties of the surface. The quantity, type and alignment significantly influence this intensity.
Global matting agents market revenue, by application, 2015 (USD Million)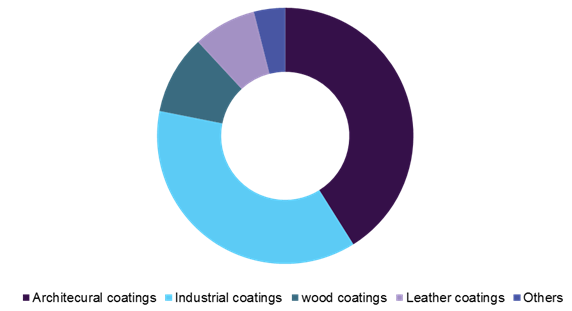 Silica Based - The Market Leader
Silica-based products are used in a wide variety of coating applications. Precipitated silica, pyrogenic silica, and silica gels find usage in various industry applications. The matting properties of silica are mainly determined by three parameters namely, pore volume, particle size, and surface treatment.
Another type is wax which is used to impart properties such as slip and anti-blocking to the coating. Mineral fillers have a niche market and are used in particular application needs. Metal coatings especially coil coatings employ the usage of thermoplastic powders. The increased applications of all the matting agents are expected to fuel market growth over the forecast period.
Diverse Needs - Diverse Matting Agents
From plastics to paper, printing inks to metals, they are used everywhere. Architectural, wood, leather and so on, it finds broad applications. All these applications have diverse needs. Companies have been successful in developing offerings to cater to the different requirements.
Recently, matting agents that are used with specific formulations have been developed. UV, powder, solventborne and waterborne formulations have different characteristics. There are additives available in the market which caters to these different tendencies. The same product which can be used in almost all the formulations has also been developed.
Product Portfolio - Priority for Industry Participants
Standard matting agents had limitations regarding achieving desired surface properties. Companies have developed products which overcome this limitation and provide proper matt effect, enhanced surface texture, and excellent strength. Companies are trying to add novel products to their portfolio which serve diverse application needs.
Strong demand from Asia Pacific is contributing to an increased market size. This demand trend is expected to continue over the forecast period. Major industry participants are participating in trade fairs, exhibitions and expose to showcase their products in developing countries such as India. Production from both continuous as well as batch processes is employed by manufacturers depending upon the type to be manufactured.

In-depth report on global matting agents market by Grand View Research:
http://www.grandviewresearch.com/industry-analysis/matting-agents-market