The medical foods market is segmented on the basis of route of administration, product type, application area, and region. The growing awareness about the importance of medical foods in disease treatment and patient recovery is rapidly boosting its usage. The medical foods market valuation in 2015 was in excess of 12.3 billion and is set to almost double by 2025.
The difference between medical foods, functional foods, and dietary supplements is determined on the scientific evaluation, regulatory process, the quality of ingredients used, labeling requirements, and the intended use of the product. The major players operating in this market which include Danone, Nestlé, Fresenius, Abbott, and Mead Johnson & Company, LLC are also the leading players in the overall clinical nutrition market.
The medical foods industry operates in a unique environment with the convergence of the pharmaceutical and FMCG industry. The best practices across these two diverse sectors are used extensively to market the products. The interpretations and understanding of medical foods vary in different regions due to an ambiguous regulatory structure. Although, the broader principals for considering any special food as medical food are similar, there are possibilities of overlapping claims or miscommunication to the consumer.
Furthermore, the FDA and European Commission have different interpretations & laws for the medical foods industry. The definition of medical foods as per the U.S.FDA in section 5(b) of the Orphan Drug Act (21 U.S.C. 360ee (b) (3)) is: "a food which is formulated to be consumed or administered enterally under the supervision of a physician and which is intended for the specific dietary management of a disease or condition for which distinctive nutritional requirements, based on recognized scientific principles, are established by medical evaluation."
In Europe, the foods for special medical purposes are governed by the Commission Directive 1999/21/EC, which has been adopted under the old legislative framework of Directive 2009/39/EC. According to this directive, "special foods are developed to serve exclusive or partial feeding requirements of people whose nutritional requirements cannot be met by normal foods".
Global medical foods market by application, 2015 (%)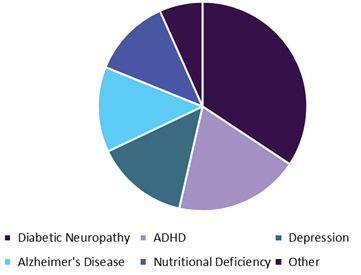 The major applications areas are chronic diseases, wherein the patient requires long-term hospitalization and extended home care treatment. In 2015, diabetic neuropathy held the maximum share of over 34%. Furthermore, with the growing geriatric population, early onset of diabetes, and increase in smoking coupled with other risk factors, the demand for various products is expected to further accelerate over the forecast period.

In-depth report on global medical foods market by Grand View Research:
http://www.grandviewresearch.com/industry-analysis/medical-foods-market