Metal foil tapes are thermally conductive and non-conductive flexible strips made up of several metals such as copper, aluminum, lead, carbon steel, tin, and nickel with industrial strength adhesives on one or both sides. They are widely used in efficient cooling and heating jobs involving light & heat reflective and thermally conductive surfaces. They are an excellent flame, moisture, weather, and chemical resistant.
Metal foil tapes offer services to various end-use industries including aerospace, automotive, transportation, defense, construction & building, electronics, consumer appliances, and metal finishing. they are extensively used for heat shielding, paint strip masking, light reflection, wire harness wrapping, thermal conductivity, and duct sealing.
automotive & transportation is likely to be the one of the lucrative growing segment of the global metal foil tapes market over the years ahead. In automotive & transportation industry, it is widely used for sound dampening, heat sealing, and auto repair needs. Moreover, it provides heat reflection, prevents leaks, masking, and wire bundling.
U.S. metal foil tapes market, by end-use (USD Million), 2016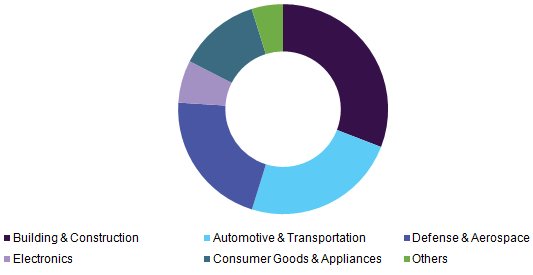 Building & construction was the largest segment in the U.S. market in terms of value in 2016 and is expected to continue the trend in the coming years. This segment was estimated at USD 51.9 million in 2016 and is expected to grow at a CAGR of 8.1% from 2017 to 2025. This growth can be attributed to special focus on new infrastructure development and reconstructing existing capital assets that are causing safety concerns.
In terms of revenue, Asia Pacific is expected to witness fastest growth rate with a CAGR of 7.1% between 2017 and 2025. Significant growth in several end-use industries especially building & construction is anticipated to fuel the market growth over the years ahead. In addition, superior technical properties coupled with growing automotive & transportation industry in this region is boosting the consumption of metal foil tapes.
Key players in the market include The 3M Company, Nova Films & Foils, Inc., All Foils, Inc., Tape Holding Company, Inc., Intertape Polymer Group, Hitachi Maxell, Ltd., MBK Tape Solutions, Shurtape Technologies, LLC, Scapa Group Plc, Advance Tapes International, Nitto Denko Corporation, Kruse Adhesive Tape, Inc., CMS Group of Companies, Saint-Gobain S.A., and Jiangyin Bondtape Technology Corporation. Key market players are implementing various market expansion strategies such as agreements, partnerships, new product development, acquisitions, and joint ventures with local industry players.

In-depth report on global metal foil tapes market by Grand View Research:
https://www.grandviewresearch.com/industry-analysis/metal-foil-tapes-market