Many countries have favorable policies to help its residents take care of their health through various healthcare acts and policies. However, there are not many policies aiding funeral costs even in developed regions such as North America and Europe. However, there are government programs to compensate for funeral costs of war veterans and for those who cannot afford funeral costs for the dear ones (if they qualify for it).
The death care industry involves a variety of services and equipment providers that are constantly evolving their offerings to help provide affordable funeral services for people and create a memorable experience. Availability of such services and devices encourages people to demand customization in the same. Reduced costs and higher demand for customization provides high scope for industry growth.
Global Mortuary Equipment Market, 2016, by Region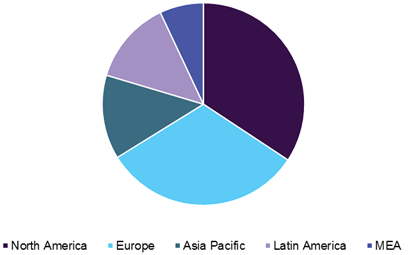 We have limited the scope of mortuary equipment market to the devices used in shifting of cadavers in and out of the morgues and different procedures inside the morgue & mortuary, including storage, autopsy, body embalming, and other dissections procedures. Other instruments involved in the funeral procedures are not considered in the study, however, customized cadaver cold storage units with display are included.
The religious and cultural beliefs play an important role in the market growth. The market is prevalent in the regions where majority of population is Christian. Christians traditionally bury the dead and require morgues to store cadavers till the arrangements are done. The funeral traditions vary throughout the globe and, thus, the requirement of the morgues varies. For instance, Islam follows tradition of burying the dead, however, the final rites are performed as soon as possible without keeping the cadaver in morgue. Population following rest of the religions, including Hinduism, and Buddhism, traditionally cremate the dead, which requires minimum usage of morgue, unless there is a need for postmortem.
Autopsy is a major procedure performed in the morgue and, thus, the revenue generated by devices used in this procedure has been studied separately in the study. Despite the fact that statistics for autopsy suggest decline in the recent years, the demand for autopsy equipment is expected to increase with increasing the number of morgues and hospitals.
The level of advancements in technology is higher in autopsy equipment. Thus, the traditionally used autopsy devices are being constantly replaced by advanced devices. As a result, this segment is expected to grow at the fastest rate during the forecast period. On the other hand, the usage of embalming fluids and platforms is expected to decline over the time as most people, even Christians, have begun preferring cremation over burial in order to reduce the costs incurred in performing final rites.

In-depth report on global mortuary equipment market by Grand View Research:
http://www.grandviewresearch.com/industry-analysis/mortuary-equipment-market