Mycoplasmas are bacteria that infect cell culture leading to contamination. Cell culture contamination subsequently affects the laboratory workers along with their research work. Mycoplasma contamination poses huge threat to the academic laboratories as well as the biopharmaceutical production facilities. It can alter the cells to a large extent, thereby, leading to destruction of the research work. On contamination, the morphological changes occurring to the affected cells often become unapparent. In addition, mycoplasmas, due to their tiny size, cannot be detected through the naked eye or even under the optical microscope. Hence, they go unnoticed in most of the cases and lead to adverse consequences.
Mycoplasma contamination generally occurs as a result of infected cells transferred from another laboratory, contaminated cell culture reagents, or any infected laboratory worker. Hence, there is a growing need of continuous examination of mycoplasma in cell culture research work in order to eliminate such contamination risk.
Global mycoplasma testing market share, by region, 2016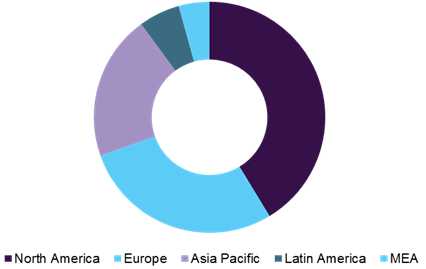 Growing number of R&D activities conducted in pharmaceutical and biotechnology industries is contributing toward tremendous growth of the mycoplasma testing market. Pharmaceutical companies contribute majority of their revenue share toward R&D activities. Extensive R&D activities aiding in the introduction of new drugs require mycoplasma testing. Thus, huge R&D spending and development of new drugs by pharmaceutical companies are encouraging high demand for mycoplasma testing products.
Indian pharmaceutical companies are also expected to witness huge growth due to investments made by the government in the manufacture of multiple research centers. This will further add up to the growth of mycoplasma testing market. The Economic Times reported that Indian pharmaceutical companies are spending around 9% of their revenue on R&D activities. Moreover, according to a study by Pharmabiz, top 15 global pharmaceutical companies spent more than 17% of their revenue in research-based activities. Such huge amount of investment made by pharmaceutical companies in R&D activities are boosting the demand for mycoplasma-related reagents and kits.
There has been growing level of funding made by Pharmaceutical Research and Manufacturers of America (PhRMA) members for biomedical research and development. This amount accounted for more than half a trillion dollars since 2000, which included USD 51.2 billion investment in the year 2014. Moreover, for the fiscal year 2017, the U.S. President proposed USD 152.33 billion for R&D investments. Such heavy spending by governmental bodies on R&D activities are contributing to the development of pharmaceutical industry to a great extent. Hence, the growth of mycoplasma tests, required for research-based work is also expected to increase in the near future.
North America is the leading region with respect to huge healthcare spending stimulated by the U.S. This has led to further rise in R&D funding by the U.S. government. Global pharmaceutical companies are receiving extensive support from the U.S. government through research-based collaborations amongst industries and educational institutes. The Asia Pacific region is also witnessing huge opportunities in the field of biopharmaceutical research due to a rapid rise in expenditure on R&D activities by the Chinese government.

In-depth report on global mycoplasma testing Market by Grand View Research:
http://www.grandviewresearch.com/industry-analysis/mycoplasma-testing-market