Next generation sequencing (NGS), in the last few years, has been recognized as one of the most significant technological advancements in biological research with crucial applications in medical diagnostics. Emergence of this technology along with its plummeting costs has enabled high throughput sequencing in yielding greater productive efficiency and expediting diagnostic outcomes. Implementation of this technology to gain insights into the mechanism underlying tumor growth is anticipated to revolutionize the prevention, diagnosis, and treatment of hereditary diseases and diverse cancer forms.
Global next generation cancer diagnostics market, by region, 2015 (USD Million)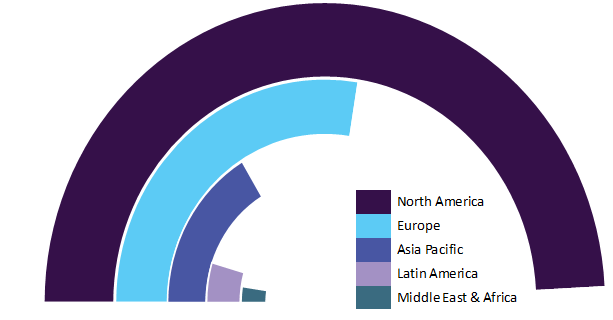 Next generation cancer diagnostics vertical is broken down by technology, application, cancer type, and function
This vertical deploys different technologies encompassing NGS, qPCR & multiplexing, Lab-on- a- chip (LOAC) & Reverse Transcriptase-PCR (RT-PCR), protein microarrays, and DNA microarrays for oncology studies. Of these, NGS, employed to perform oncology studies, is expected to revolutionize the market owing to continual introduction of efficient bioinformatics algorithms by several market entities to support various NGS platforms.
On the basis of site of tumor growth, this vertical is classified into cervical, breast, colorectal, lung, bladder, brain, skin, uterine, esophageal, liver, ovarian, prostate, and thyroid cancer, leukemia, Non-Hodgkin lymphoma, carcinoma of unknown primary, and among others.
These second generation oncology services serve various aspects of tumor treatment including therapeutic monitoring, companion diagnostics, prognostics, screening, and risk analysis. In addition, these services provide wide range of applications in oncological studies, which include biomarker development, Circulating Tumor Cell (CTC) analysis, proteomic analysis, epigenetic analysis, and genetic analysis.
Addressable next generation cancer diagnostics market
Advent of second generation sequencing technology is anticipated to positively influence the conventional methods employed in malignant tumor diagnostics in facilitating simultaneous sequencing of several genomes in a single instrument run in a relatively short period of time.
Ongoing research programs targeting the development of next generation solutions to enhance cancer treatment is expected to steer technological progression of diagnostic centers, research institutes, laboratories, hospitals, and clinics.
Competitive outlook
Owing to multiple technological and practical advances in infrastructure, NGS technology can be easily incorporated into clinical research settings and medical practices. U.S. FDA approval for novel therapies that target somatically mutated genes exploiting NGS technology is anticipated to enhance the growth of companies engaged in designing and developing different solutions for this market.
Some of the major players in this market include Illumina, Inc.; Koninklijke Philips N.V.; Hoffman La Roche Ltd.; Sysmex Corporation; Almac Group; Qiagen; Abbott; Thermo Fisher Scientific, Inc.; Novartis AG; Agilent Technologies; Cepheid; Genomic Health, Inc.; Janssen Global Services, LLC; Hologic, Inc.; Myriad Genetics, Inc.; Opko Health, Inc.; PerkinElmer, Inc.; and GE Healthcare
Increasing global cancer burden coupled with concurrent fall in NGS price is expected to drive market growth
Significant rise in cancer incidence has prompted biologists and market entities to invest efforts in devising various prevention strategies and facilitate early detection to enable successful handling of cancer diagnosed patients. As per the World Health Organization, cancer was responsible for 8.2 million deaths in 2012. Early detection of tumors and proper treatment are considered as crucial factors to reduce cancer incidence and the associated mortality rate. Focused efforts in this direction to raise the accessibility to diagnostics and the diagnosis rate combined with the implementation of targeted therapies have enabled market expansion.
Technological advances in sequencing technology hold significant potential in rendering genome sequencing an integral aspect of oncology disease treatment in the coming years. The sensitivity and specificity of the new age diagnostics play a significant role in proper treatment of tumor malignancies, hence driving the growth of this vertical.

In-depth report on global next generation cancer diagnostics market by Grand View Research:
http://www.grandviewresearch.com/industry-analysis/next-generation-cancer-diagnostics-market