Globally, recent commercialization & expected launch of the targeted-therapy agents in the market, rising incidence of non-small cell lung cancer (NSCLC) due to increasing pollution, and growing adoption of newer agents during the forecast period are likely to drive the market over the coming years.
Lung cancer is the leading cause of death across the world. According to the World Health Organization, about 8.2 million deaths happened in 2012, out of which, lung cancer caused the highest number of deaths and accounted for about 19.4% of total deaths caused by cancer.
By drug, NSCLC medicines have been categorized into Alimta, Iressa, Avastin, Tarceva, Zykadia, Tagrisso, Xalkori, Cyramza, Opdivo, and Alecensa. Targeted therapy, lesser adverse effects, growing penetration, and increasing demand due to the rising prevalence are the key factors that propel the market during the forecast period.
Several drugs are expected to gain approval in various geographical locations. Thus, the presence of a strong pipeline and increased funding by the government for research and development activities are likely to drive the market over the coming years.
Non-small cell lung cancer therapeutics market share, by drug, 2016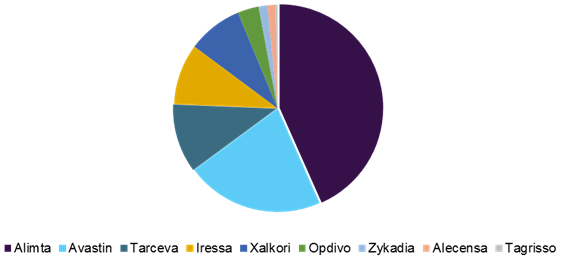 Geographically, North America accounted for the largest share of the market and is expected to maintain its dominance during the forecast period due to market entry of several drugs such as Zykadia (2014), Tagrisso (2015), and Opdivo (2015) in the recent years along with high adoption of expensive treatments and local presence of major market players. Furthermore, expansion of indication of already approved drugs helps to enhance the generation of revenue.
Asia Pacific is expected to be the second largest region of the industry. This is attributed to a large patient base and government initiatives for cancer research. Japan contributed the highest share of the region due to the availability of various new medicines and acceptance for costlier medicines.
Eli Lilly and company, F. Hoffmann-La Roche AG, AstraZeneca, Novartis AG; Pfizer, Inc.; and Bristol-Myers Squibb Company are some players operating in the non-small cell lung cancer therapeutics industry. Development of innovative drugs, geographical expansion, and collaboration for development &commercialization are the key strategies of the companies in the market. For instance, in October 2016, DAIICHI SANKYO COMPANY, LIMITED. and the U.S.-based Dana-Farber Cancer Institute collaborated to carry out research on lung cancer.

In-depth report on global non-small cell lung cancer (NSCLC) therapeutics market by Grand View Research:
http://www.grandviewresearch.com/industry-analysis/non-small-cell-lung-cancer-nsclc-therapeutics-market