North America calcium carbonate market is anticipated to witness a robust growth on account of its increasing use in several applications such as paper, plastic, and concrete. Along with increasing usage in construction, paper, plastic industry, calcium carbonate is also used as a dietary supplement, additive for thermoplastics and in various metalloid mineral applications.
Both, PCC as well as GCC are used as fillers for manufacturing paper, but the demand for PCC is on the rise owing to the operational flexibility it provides. The fundamental difference between PCC and GCC is that PCC is manufactured, whereas GCC is mined. Thus, it becomes possible to alter the chemical as well as physical properties of PCC.
This manufacturing flexibility facilitates on-site production of PCC, thus reducing the transportation cost. GCC and kaolin clay require mining and processing at the manufacturing facilities and only then are transported to the paper mills. Calcium carbonate has emerged as the most cost-effective mineral for producing high-quality paper and paperboard.
Nano calcium carbonate has the ability to modify the performance characteristics of several materials including rubber, plastics, adhesives, and sealants. These characteristics include improved weather resistance, impact resistance, heat resistance, superior toughness, and performance under extreme temperature conditions.
Development in technology allows the synthesis of nano calcium carbonate particles that have a large surface area. These particles are further coated with surface modifiers in order to improve dispersion, thus resulting in better compatibility with polymer matrix.
Industry Value Chain
North America calcium carbonate market value chain consists of raw material suppliers, insulation material manufacturers, distributors, and end-users. Major companies operating in the market include Omya, ParchemFine & Specialty Chemicals, Imerys Pigments, and J.M. Huber Corporation. These companies have a high integration throughout the value chain.
The production of GCC is widespread globally. China, the U.S., Europe, and Japan are the largest producers of GCC. The production of PCC is restricted to a few manufacturers that have the required manufacturing facilities across the key consuming countries. These players cater to the demanding segments such as paper, paints &coatings, plastics, and adhesives &sealants.
The global supply is restricted to a few companies that operate at the regional and country level. Being the highest value-added product, PCC is traded world-wideviathese global suppliers. Satellite plants cater to paper mills, which is the largest end-user segment. While other segments such as paints and plastics are catered through national level manufacturers
Application and Regional Trends
Industrial fillers emerged as the largest and fastest application segment. Precipitated calcium carbonate (PCC) is particularly used in the making of paper while the fine ground calcium carbonate (GCC) has many pharmaceuticals & industrial applications. With increasing use of paper in the manufacturing of many day-to-day items such as tissues, coffee cups, printing paper, packaging paper & others, the paper industry is bound to grow in the North America.
This is further expected to drive the use of calcium carbonate fillers in the paper industry thereby increasing the market share of calcium carbonate industrial fillers. Furthermore, calcium carbonate has also seemed to replace kaolin in the manufacturing of glossy papers in North America.
Presence of key market players and limestone quarries are likely to support the market growth for the calcium carbonate industry in the U.S. Large number of limestone quarries in this region & growing demand for calcium carbonate in varied industries such as Caulks and Sealants, Adhesives, Rubber, Vinyl Flooring, Carpet Backing, Cultured Marble, Cleansers, Stucco, and Drilling Fluids is expected to drive the product market.
Increased export levels of limestone in Canada, the changing lifestyle of people and growing use of calcium carbonate in the personal care products are projected to create opportunities of growth in this region.
North America Calcium Carbonate Market Share By product, 2015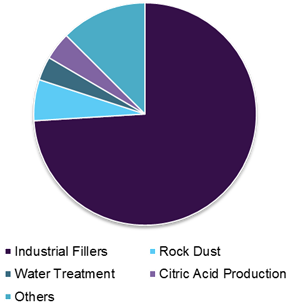 Future Trends
Growing demand for calcium carbonate from different industries requires establishing new limestone quarries; however, setting up a plant & gaining legal permissions is time-consuming, which is expected to affect the market growth. Moreover, as most of the quarries are present away from the main cities, the transportation cost adds to the overall pricing of the product, thus making it more expensive.
The major calcium carbonate applications include industrial fillers, rock dust, water treatment, citric acid production and others. Among these, industrial fillers segment has dominated the North American market over the recent years and this dominance is expected to continue over the forecast period. This application has the highest market penetration rate among all the applications, followed by others application segment such as healthcare, personal care products, agriculture, building & construction, etc.

In-depth report on North America calcium carbonate market by Grand View Research:
http://www.grandviewresearch.com/industry-analysis/north-america-calcium-carbonate-market