The chlor-alkali industry will probably witness a remarkable growth from 2016 to 2024 owing to increasing demand in the application industries such as inorganic and organic chemicals is expected to boost the chlor-alkali market over the forecast period. Another significant factor promoting this expansion is the high production capacities for chlor-alkali derivatives and products.
In addition, the development of technology utilized in the procedure to create it environmentally practicable and less energy concentrated is expected to give the industry a big boost over the forecast period. Chlor-alkali production is followed by various derivatives such as hydrogen, hydrochloric acid, chlorine etc.
Hydrogen gas is used in the hydrogenation of edible oils, and in the production of soaps and petroleum products. Hydrochloric acid is helpful for galvanization and water treatment. Chlorine is also helpful in water treatment and is also used to manufacture chlorinated paraffin wax. Thus, not only main products of chlor-alkali but also the popularity of derivatives is expected to drive the market during the forecast period.
The production cost of chlor -alkali products during the forecasted period are expected to be moderately cheaper than the previous years due to the global crude oil attaining stability and staying low. With rampant technology, up gradation in the refinery processing of the downstream industry, the manufacturers will likely register a bigger profit till 2025
Norther America Chlor-alkali Volume Share, By Region, 2015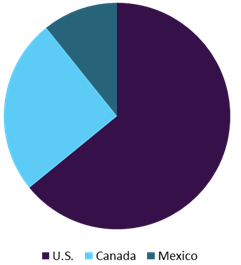 North America is registering a strong demand for chlorine, soda ash and chlorine from different industries as chlor-alkali is widely used in varied applications like production of soap, textiles, detergents, different types of chlor acid and others. Chlor-alkali is also an essential raw material for producing different types of non-chloric acids.
With China reducing productions and degrading many fossil fuels plants, demand is expected to be steady and rising during the forecasted period for the chlor-alkali market. The US is projected to be the holding the highest market share in terms of volume produced and revenue generated due to shale gas operations and recent political scenarios favoring the industrial laws. Relaxation of environmental prohibited laws for chemical industries will likely favor the manufacturers till 2021.
Rising demand in Canada can be associated with rapidly developing sand oil technology which has been rampant since its discovery. With Canada, able to suffice their demand of crude oil, the chlor- alkali production in the region is expected to grow at a CAGR more than 3% during the forecasted period. Mexico has also a significant contribution in the chlor- alkali market and has projected a steady rise in the North American chlor-alkali market share movement.
Research and development are the key to penetrating and understanding the shifting trends in this market. Partnering and merging with companies with different expertise in this field is essentially crucial to attaining a bigger market share in the frozen processed food industry.
Adoption of many R&D activities towards development of new production processes such as membrane process instead of mercury process for caustic soda production are expected to provide new opportunities to the market players.

In-depth report on North America chlor-alkali market by Grand View Research:
http://www.grandviewresearch.com/industry-analysis/north-america-chlor-alkali-market